Fetty Wap Nitro Nation Stories
Platform: iPhone & iPad
Author: Osauhing Creative Mobile
Category: Games
Version: 2.14
Downloads: 157K
---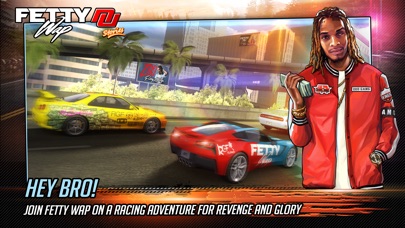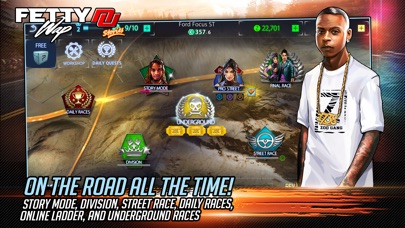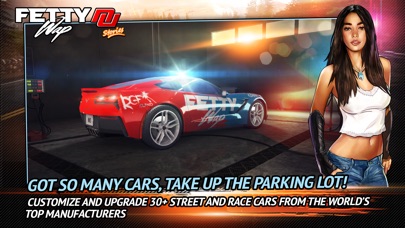 ---
App description:
Whatsup Bro! Join Fetty Wap and his friends in the best racing game, which takes you on an addictive adventure for revenge and glory. 

We've combined the charm of award winning artist Fetty Wap, Monty and the RGF Production Team with the excitement of Nitro Nation Stories racing! 

Race, speed and crash your way to victory with a soundtrack featuring hit singles "Jugg (feat. Monty)" "Trap Luv" "My Way (feat. Monty)" "Boomin" and "Monty-Overnight (feat. Fetty Wap)"

On the road all the time 
Choose from a variety of easy to play game modes: Story Mode, Division, Street Race, Daily Races, Online Ladder, and Underground Races to earn prizes, cash and upgrades. 

Earn special Victory Points (VP) by using the featured car of the day, they can get 50% extra VP, if they use a Race version of the car they can earn 20% extra VP, which are used to claim in-game prizes at the end of the weekly championship. 

Riding in my Own Lane, Baby!
Protect your turf and uncover a string of mysterious accidents and deaths in the racing community. Race through 3 unique   race environments and play through 5 storyline chapters that follows Fetty Wap, Monty and Justin with a cast of characters in the dangerous world of illegal racing. 


Got so Many Cars, Take up the Parking Lot, Ayy!
We've got a collection of 30+ really nice cars from the world's top manufacturers like Alfa Romeo, BMW, Cadillac, Chevrolet, Chrysler, Dodge, Ford, Honda, Infiniti, Jaguar, Mazda, Nissan, SSC and VW.  

All Fast Money, No Slow Bucks 
Customize your ride with a selection of colors, make your own custom paint jobs and decorate your car with dozens of unique decals! 

Visit Monty in the Black Market and upgrade your car in the Workshop (Engine, Turbo, Gear Box, Intake, Body, Wheels, Nitro) with 5 levels of upgrade kits.

I Do This For My Team
Players will also be able to play with a friend on a single tablet using split screen Local Multiplayer mode, or on Apple TV.

Fetty Wap Nitro Nation Stories supports Nimbus and Siri Remote controllers, as well as iCloud support for iOS and Apple TV. 

You Became an Instant Friend, Baby
It's all about the players and the fans! Connect with other car fanatics and enjoy Fetty Wap: NNS together:
Website: http://goo.gl/ppS4cX
Facebook:  https://goo.gl/0yVlYI
Twitter: https://goo.gl/mhwyld
Instagram: https://goo.gl/dSbXbG
Youtube: https://goo.gl/ZY7uAc

TECHNICAL REQUIREMENTS
• Supported platforms: iOS, tvOS
• Supported OS: 7+
• Supported devices: iPad 2+, iPad mini +, iPhone 4s+
• Optimized for: iPad Air+, iPhone 6+

TROUBLESHOOTING
- If the game doesn't start up, runs slowly or crashes, please get in touch and we'll do our best to help.
- If you have any questions, use one of the two ways to contact us through our Support system: https://support.creative-mobile.com/ or via e-mail at support@creative-mobile.com
TAG: app, iPhone & iPad,Games
---
Similar Apps
---
More from developer
---