WW2 Iron Train Gun Commander
Platform: iPhone & iPad
Author: Khayyam Hashmi
Category: Games
Version: 1.0
Downloads: 132
---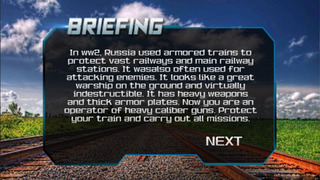 ---
App description:
Relive the WW2 Battlefield Scene
In ww2, Russia used armored trains to protect vast railways and main railway stations. It was also often used for attacking enemies. Resembling a great warship on the ground and virtually indestructible, it has heavy weapons and thick armor plates to do the damage on the fiercest of enemies. You have been assigned as the operator of Caliber Guns on the "Defender" train. 
Your job is to protect the train at any cost, securing all supplies and minimizing damage to the Destroyer as much as possible. You are equipped with massive weapons onboard, so lay assault on all the enemy artillery to defend the train out of harm's way.

Intense Combat Missions
Five deadly and intense missions await you on route to a successful defense of the Destroyer. Survival long shoot down battles with armored trucks, German tanks, artillery guns, warships and Tiger Tanks. Fight through challenging weather conditions and fierce enemy attacks in a constricted timeline. 
The war will not be easy as it seems, even with the mighty Destroyer and Gatling Guns at your disposal. The enemy possesses some heavy duty artillery to put a serious dent in your line of defense. Stay firm and steady in your aim if you wish to survive the authentic WW2 era. 


Features
-	Smooth and realistic gameplay
-	Detailed built battlefield environment with WW2 experience
-	Various enemy classes across 5 challenging levels 
-	Tricky weather conditions
TAG: app, iPhone & iPad,Games
---
Similar Apps
---
More from developer
---