Pro Game - The Escapists Version
Platform: iPhone & iPad
Author: John Alves
Category: Games
Version: 1.0
Downloads: 6K
---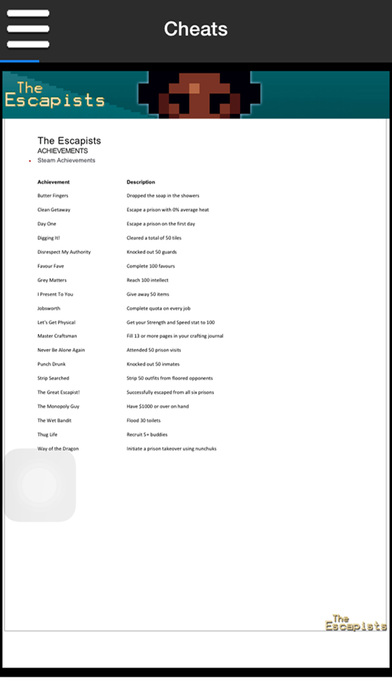 ---
App description:
The Escapists provides the opportunity of experiencing a light-hearted insight into everyday prison life and, as is the case with all inmates, the main objective is escape! While under the careful watch of the guards, players will need to go about their daily duties clandestinely secreting useful objects from under their captors' noses. Potential escapees will learn how to craft seemingly innocuous items into useful tools and even weapons as well as using them to execute cunning diversionary tactics. 

FEATURES: • Walkthrough Videos • Read character bios • Guide on every level • Cheats and tricks in level • How to get through Challenge Modes • Manual Game Guide • Trailer Videos • And many more

Download This Game Cheats Guide for the The Escapists app now!
TAG: app, iPhone & iPad,Games
---
Similar Apps
---
More from developer
---