CariCartoon - Funny Cartoon Caricature Maker
Platform: iPhone & iPad
Author: Miinu Limited
Category: Photo & Video
Version: 2.0
Downloads: 18K
---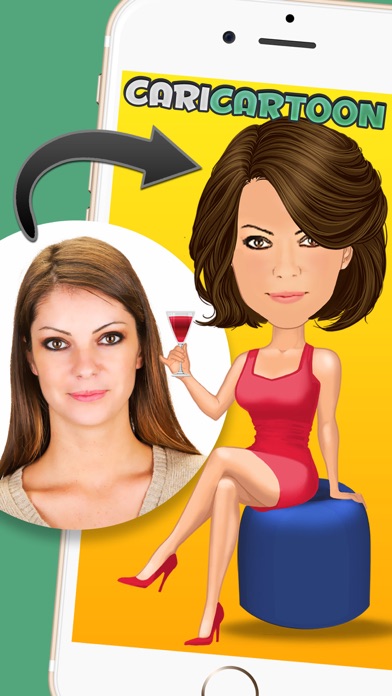 ---
App description:
From the maker of popular  My Sketch App with over ●10 Million Downloads● now bringing you CariCartoon, the Funniest App to turn your own Selfie to Colorful, Realistic, and Hilarious Cartoon Caricatures!

Have you ever wished to be superheroes? How about making funny birthday cartoon starring you and your friend? You can also be a professional Lap Dancer! For the happy couple, wouldn't it be so wonderful to make your own wedding cartoon caricatures starring You and your other half? All you want to be is HERE at CariCartoon. Let's see our amazingly simple, intuitive, but crafted for unlimited creativity features!

FEATURES
---------------------
▲ Super easy and user-friendly features to turn any photos to mindblowing Cartoon Caricatures
▲ Choices of more than 100+ different scenarios including: Wedding, Celebration, Profession, Fantasy, Funny, Avatar, Hobbies!
▲ CariCartoon is for everyone! You can choose different skin colors in one tap!
▲ We develop our own sophisticated face conversion, from your photo to unbelievably realistic beautiful cartoon in a split second!

▲Choose various different backgrounds, from Beautiful Lake in Canada, Enchanting Eiffel Tower in Paris, Beautiful Wedding Chapel, to Hot sunny beach in Bali!
▲ CariCartoon is All about Customizing your very own Cartoon, Your style, Your way. Don't worry though, as we always strive to make the experiences as simple and easy as possible.We have lists of : Different Face Shapes, Beard and Moustache, Eyebrows, Glasses, Hair, Earrings and Headwear
▲ Customize your own hair with 5 different colors : Black, Dark Brown, Red, Blonde, and Gray
▲ Add your own Text and customize it your way with different color and fonts!
▲ Save CariCartoon in High Quality resolution, so you can print these amazing Cartoons with the best quality!
▲ Share CariCartoon easily to Instagram, Facebook, Twitter, Email, Whatsapp, Tumblr, and Facebook Messenger!
▲ CariCartoon is truly limitless! Try different scenarios with Celebrity, Swap Boy to Girl character to have some laugh, Turn your friend into a warrior, Add Beard to everyone's faces, Make Funny Comics by adding your own text, Make one heartwarming cartoon for your mom on her birthday, Become a Stunning Miss World or even a passionate scientist, Get married in Paris, Be come a Cool Cop, Army, or even an Agent! Everything is Possible with CariCartoon!

KEEP IN TOUCH
----------------------
We love to keep in touch with You, so we are always available through :
FB : https://www.facebook.com/CariCartoonApp
IG  : https://instagram.com/caricartoonapp/ ( @CariCartoonApp)
WEB: www.caricartoon.me
Support & Forum : http://miinu.uservoice.com/

We are just getting started! New fantastic and fun features have been prepared for our continuous updates! Our promise is, You Will Have Fun with CariCartoon App, while we are doing our very best to improve and upgrade our app every day!

Let's start making your Precious Memory and Have the Best Laugh of your life with CariCartoon App!

CariCartoon Team
Miinu
TAG: app, iPhone & iPad,Photo & Video
---
Similar Apps
---
More from developer
---