Baseball Blueprint
Platform: iPhone & iPad
Author: Knowledge Spot Inc.,
Category: Sports
Version: 2.0
Downloads: 15K
---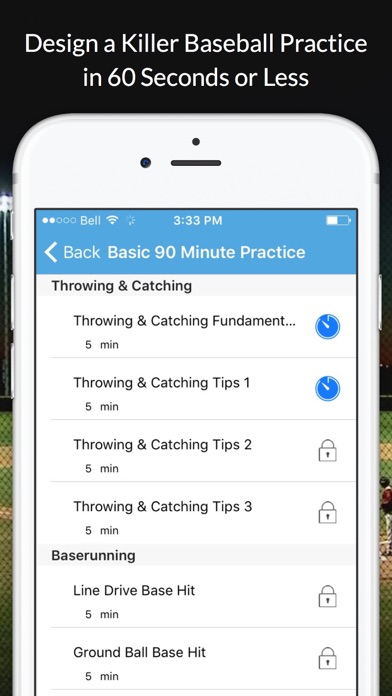 ---
App description:
Attention Coaches! Baseball Blueprint provides everything you need to streamline your practices, skyrocket your team's skills, and out-play your opponents! 

All delivered in a simple, easy-to-use mobile interface you can take right to the field on your iPhone or iPad!

THE EASY WAY TO DEVELOP BASEBALL SKILLS

+ 116+ fun, fresh and effective drills organized into easy-access categories
+ On-field video demonstrations, diagrams, and step by step instructions
+ Drills for hitting, pitching, fielding, throwing, catching, baserunning, and athletic development
+ Take your team's skills to the next level!

DESIGN A KILLER PRACTICE IN 60 SECONDS OR LESS

+ Easily create custom practice plans to target your team's skill development needs
+ Bring your practice right to the diamond on your iPhone or iPad
+ Eliminate your practice planning stress! No more "winging it!"
+ Simply drag and drop drills from our library, or add your own custom activities
+ Built-in timers and reminders keep you on schedule

+ Includes six pre-designed practice plans for basic, intermediate, and advanced teams

PROVEN STRATEGIES AND TACTICS

+ 38+ simple defensive strategies for all ages and competitive levels
+ Discover the secrets to winning baseball
+ Learn exactly where to position your fielders for every critical situation
+ Get a mental edge on your opponents with championship proven techniques
+ Improve your in-game execution, eliminate mistakes and win more games!

EFFORTLESSLY DRAW PROFESSIONAL LOOKING DIAGRAMS

+ The cleanest and simplest way to build your own customized drill collection
+ Draw, save, and share high quality diagrams, right from your iPhone or iPad, with just a few taps!
+ Share with your team by email, text, Facebook or Twitter
+ No more clunky dry-erase clipboards or binders filled with scribbled notes
+ Capture your team's attention and make critical in-game adjustments

Download Baseball Blueprint today to simplify your coaching, eliminate wasted time, and have more fun and success on the field!
TAG: app, iPhone & iPad,Sports
---
Similar Apps
---
More from developer
---