Royce Gracie Lite
Platform: iPhone & iPad
Author: Zarbaugh Studio LLC
Category: Education
Version: 1.0.0
Downloads: 136
---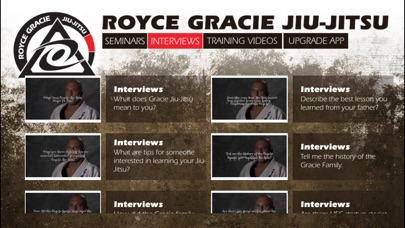 ---
App description:
3 Time World Champion and UFC Hall of Famer Royce Gracie would like to announce the release of his Royce Gracie's Self Defense Lite App which contains interviews with Royce and a "Training Videos" section that displays four new training videos every three weeks.

The app is available for all  iOS devices running 8.1.2 or higher and requires an internet connection to function.
 
Royce Gracie revolutionized mixed martial arts and gained fame for his domination in the Ultimate Fighting Championships, winning three of the first four UFC World Championships. Today Royce travels the world, teaching his battle tested BJJ techniques to all those lucky enough to train with, and is also an ambassador for Bellator MMA.  Throughout his busy fighting career Royce has maintained a rigorous travel schedule of seminars and classes enabling him to do what he truly loves… sharing his knowledge and skills.

His impressive list of students is large and includes many of the big screen greats like Chuck Norris, Ed O'Neal, Guy Ritchie, Jim Carrey, Josh Duhamel and Nicholas Cage. He has also been very active with the CIA, FBI, DEA, Secret Service, Army Rangers, Army Special Forces, Navy Seals and many sheriff and police departments.  His G.R.A.C.I.E. course for law enforcement has gained international recognition.


Aside from overseeing more than 55 U.S. and International Royce Gracie Jiu-jitsu Networks, he regularly conducts training sessions in Canada, England, Scotland, Portugal, Spain, Israel, Australia, UAE and South America. The techniques of Royce Gracie Jiu-Jitsu have become mainstream in most martial arts dojos, with fighters everywhere racing to learn and implement his proven Hall of Fame techniques into their training regimen.

Royce's seminars regularly sell out all over the world, with fighters and fans alike paying handsomely to spend just a little amount of time with the champ. Now, with the release of this new app, everyone can train with Royce Gracie. Take the mobile device right to the gym, and watch each of his moves over and over until you master them.

The app features Gi and non-Gi moves, as well as videos that contain self-defense and multi-move combinations to highlight real-life situations. Get to know the champ with interview videos discussing everything from his father and their roots of Brazilian Jiu-Jitzu to never-before heard stories about the UFC beginnings.

***** MORE TO COME SOON*****
Royce is already planning for the future of his new app!  In future updates we are planning to release push notifications for upcoming seminars, direct video downloads (so internet will not be required to view certain videos you select), bios for Royce and his certified instructors, archived classic videos of Royce Gracie training sessions, and a Royce Gracie store to purchase merchandise.
TAG: app, iPhone & iPad,Education
---
Similar Apps
---
More from developer
---