Ukulele Tuner Pro - Tune with precision and ease!
Platform: iPhone & iPad
Author: Pedro Daniel Macalupu Cumpen
Category: Music
Version: 2.7.1
Downloads: 6K
---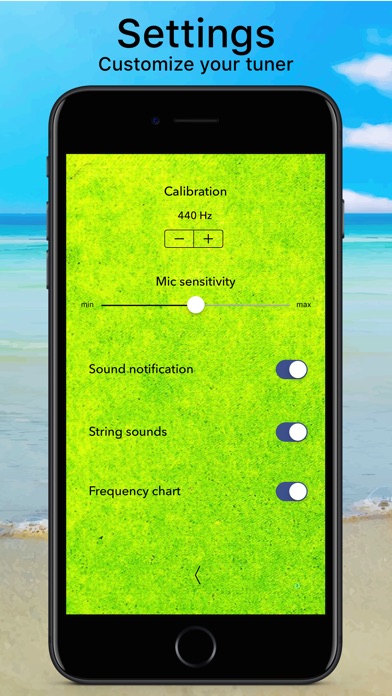 ---
App description:
** Labor Day Offer, 25% OFF  **
Tune your ukulele with precision and ease, within seconds!

· 11 Tunings for Soprano, Tenor, Concert and Baritone Ukuleles.
· Now includes Slack and Slack Baritone Tunings and Chords
· Smart Chords Library - find any chord with just two swipes!
· The most accurate - displays the sound frequency in Hz.
· Tuning fork - tune by ear if you prefer!
· Instant load and fastest tuning! - Optimized for 64-bit devices!
· Highest responsiveness and sensitivity.
· Universal app - works with iPhone, iPad and iPod touch! 
· Visual indicators - tuned string lights up 
· Optimized for Retina displays! 
· Intuitive user interface with LED tuning indicator. 
· Frequent updates! 

Still not convinced? 
Take a look at some of our user reviews worldwide:

"Love it. Makes tuning so easy when learning."

"Sweet simple easy way to tune your uke!"

"This is a great uke tuner. Dead simple."

"Excellent app - Highly recommended, easy and effective. Thank you so much!"

"It is a must have for every ukulele player!"


"Couldn't be easier to use. Love it!"

"I find this app very helpful for tuning my uke, and for looking up chords."

"No frills, easy to use: just pluck your strings till the green light comes on. Gives a digital read out of your actual frequency so you know whether to go up or down. Too easy!"

"Simple and effective, great app!"

"Happy with it, seems to be consistent!"

"Works perfectly. Easy to use!"

"Excellent! It is handier than a pitch pipe or tuning fork because I always have my phone with me."

"This app is wonderful. My ukulele was in tune within seconds, I highly recommend this app."

"Does what it promises - Very useful app."

"Get this App/Tune your Uke/Play! Couldn't be easier to use. Love it."

"Great! I love this app so much! It's super great to get your uke tuned accurately and easy. The other apps just didn't work as awesomely like this one."

"This tuner helps a lot. Well worth the $. I wouldn't be able to tune by ear with the free apps."

"I got my ukulele on Saturday, I struggled finding a good app that would help me tune it but this is just amazing!! spot on :-)"

"Very intuitive, fast and accurate! Does not require instructions!"

"This app makes tuning so easy!"

"Totally stoked to have this app. I use it every time I play, and since it's on my phone, I don't have to waste time looking for my guitar tuner and play head games with keys. I'd highly recommend this app to anyone. Tuning up someone else's uke when their's is nowhere around makes good jam pals too. Aloha!"

"Very pleased, so easy to use for a beginner like myself. I use it all the time because my new ukulele is always getting out of tune. It's very helpful."

"THE BEST - If you are in need of a ukulele tuner, please pick this one! It is the only one I've found that shows you exactly how accurate your notes are, and you don't have to play it by ear.

"I got my first ukulele and I downloaded a bunch of different apps. None of them worked: I couldn't tell if it was tuned or it was too complicated. This app is extremely simple and I really like it."

"This app is great. Really helpful. Thanks :)"

"ITS AMAZING. It was my first time stringing a ukulele and i was afraid i wouldn't be able to tune it the same way again and make it sound how its supposed to. But this is A REALLY good app"

"Awesome - I'm a first time ukulele player and I didn't want to buy a physical tuner, so I went and downloaded a bunch of apps and I was lucky enough to find this one. It's straight forward and easy to understand."

---

Got ideas? Questions?

Please send us your feedback through our site or to feedback@daikyoujulabs.com
TAG: app, iPhone & iPad,Music
---
Similar Apps
---
More from developer
---