Toad Rider
Platform: iPhone & iPad
Author: Abdullah El-Sayed
Category: Games
Version: 1.6
Downloads: 6K
---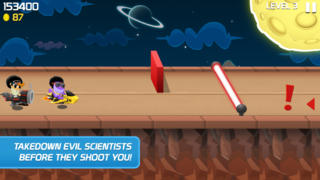 ---
App description:
Featured by Apple in "Best New Games" and "Fun Runners" sections. Inspired by the classic Battletoads game, loved by millions over the world!

Toad Rider is a super intense and challenging game for people with split-second reflexes, machine-like focus, and nerves made of steel.

"Toad-ally awesome!" - PocketGamer

"I'm really digging Toad Rider. The action ramps up at a good pace, so eventually you're swiping and tapping by the seat of your pants, and it's a lot of fun!" - TouchArcade

"If you want to re-experience the sweet anguish of one of gaming's most difficult and celebrated levels ever, download Toad Rider when it launches on iOS" - PhoneArena

Help Zody the Toad escape from a group of evil scientists in a far away lab. Your escape journey will be action-packed:

• Move swiftly with your hoverbike around tricky obstacles.
• Take down evil scientists before they shoot you!
• Dash into glass walls to survive.
• Perform cool, amazing stunts.
• Experience awesome dynamic lanes.
• Pimp your jet. Pimp your toad.

• Compete with your friends on Game Center and Facebook!

Got what it takes? Download Toad Rider now! (available for iOS only)
TAG: app, iPhone & iPad,Games
---
Similar Apps
---
More from developer
---