StepTracker: A Fitness Pedometer
Platform: iPhone & iPad
Author: Jackson Myers
Category: Health & Fitness
Version: 1.27
Downloads: 15K
---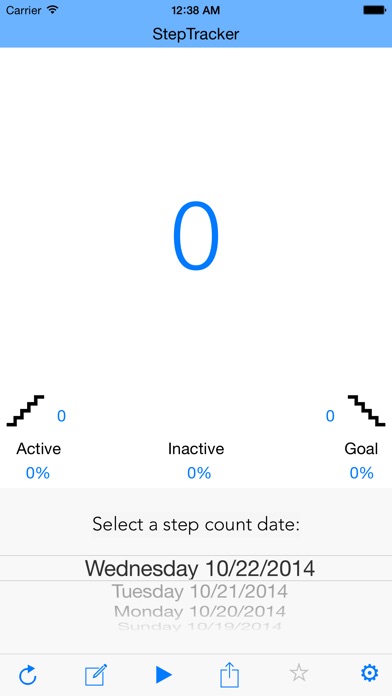 ---
App description:
StepTracker turns your iPhone into a pedometer and a fitness tracking device by counting the number of steps you take each day.  By monitoring at your step count you can get an idea of how active you have been and learn how to live a more healthy lifestyle.

Unlike conventional pedometer apps, StepTracker doesn't need to be running in the background to count your steps. Your motion data is automatically collected by Apple's new M7 motion co-processor in the iPhone 5S. This allows your step count to be monitored even when the app is not running, all without using a significant amount of battery power. StepTracker brings this information to you in a simple and easy to understand way. Simply select the day you are interested in and StepTracker will tell you how many steps you have taken, along with a measure of how much time you have spent active vs. inactive.

Features of StepTracker include:
•View your complete step count history. Even if you have never installed this app before, you will be able to see your step counts for the last 7 days. 

•Add text comments to your step count data to remind yourself why you were more or less active on a given day.
•Export all of your data via email or text message. 
•View your step count or distance travelled in miles or km by tapping the step count on the main screen.
•Turn your phone sideways to view your step count as a graph! 
•Share your step count via email, text, Facebook or Twitter with your friends. 
•Set a daily goal and see how close you have come to achieving it. 
•Display your or step count on the app icon.
•Background app refresh support. You don't even need to open StepTracker to see how many steps you have taken today, the app icon will automatically update to show you your step count on an icon badge. 
•Game Center support - see how many steps other users have taken via GameCenter or challenge a friend do a step count competition! 
•Notification Center Widget - Now you can add a widget to show your current steps and current distance right in Notification Center! To install, pull down Notification Center from the top of the screen, click on "today", scroll to the bottom and click "edit" and install StepTracker.

StepTracker is iAd supported, but you can disable the ads though an in-app purchase.

Please email or tweet me @JaxMyers if you have any feature requests or comments.

**This app is designed to work with the iPhone 5S only**
TAG: app, iPhone & iPad,Health & Fitness
---
Similar Apps
---
More from developer
---