TXTPUB - eBook Reader + TXT to EPUB + MARKDOWN to EPUB Converter + TTS
Platform: iPhone & iPad
Author: Park Kihyoung
Category: Book
Version: 3.1.4
Downloads: 1804
---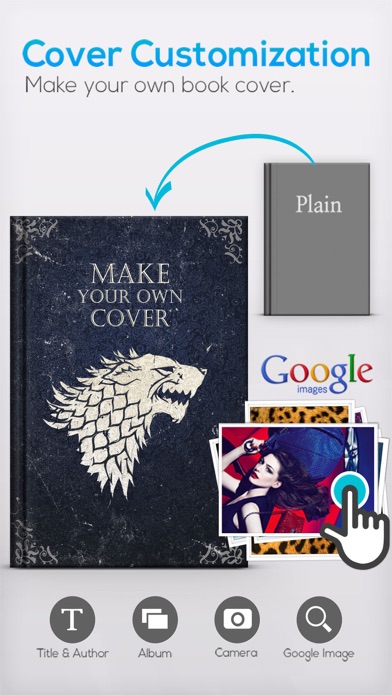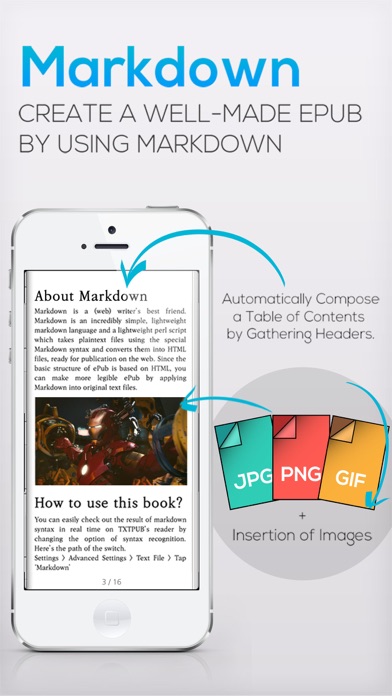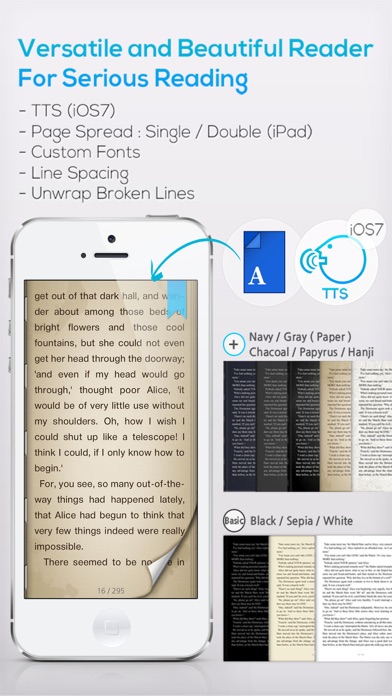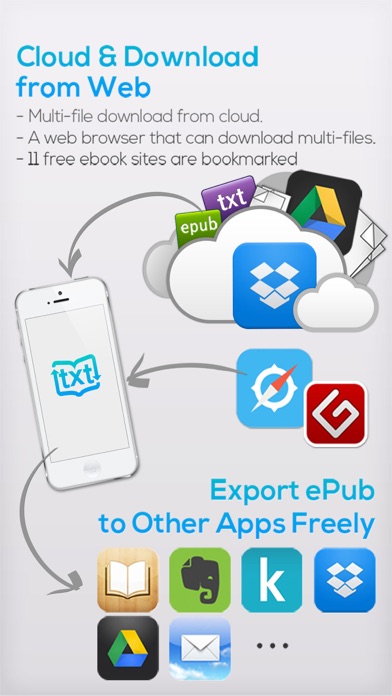 ---
App description:
"An eBook Reader that Converts Text, MD, CBZ and HTML to ePub Automatically"
"Customize Book Covers by Getting Images from Google Image or Your Album"

FEATURES
1. TXT TO EPUB CONVERTER + EBOOK READER
2. MARKDOWN, HTML, CBZ AND ZIP TO EPUB CONVERSION
 - FULL-AUTOMATED CONVERSION PROCESS 
 - AUTO-CORRECT HARD BROKEN LINES AND BLANK LINES (TXT TO EPUB)
 - MULTI-LINGUAL ENCODING FINDER 
 - MARKDOWN SYNTAX
 - CAN OPEN CONVERTED EBOOKS IN iBooks OR OTHERS.
3. CUSTOMIZATION OF COVERS
4. TTS (Text to Speech) 
5. AN EBOOK READER HIGHLY OPTIMIZED FOR SERIOUS READING
6. A WEB BROWSER THAT CAN DOWNLOAD FILES FROM WEB SITES DIRECTLY
7. CLOUD (DropBox and Google Drive) 
8. LOCK / UNLOCK SHELVES
9. JAPANESE AOZORABUNKO'S TEXT SYNTAX


DESCRIPTION
1. TURN VARIOUS FORMATS INTO EPUB.
- TXT, CBZ(Comic), ZIP, MD, MKD, MARKDOWN, HTML, XHTML and HTML
- Can send epub converted to iBooks (App to app)
- Recognition of markdown syntax is available

2. CBZ(Comic) to ePub Conversion
- Turn CBZ into fixed-layout epub or reflowable one.

- Not only CBZ but also ZIP files composed of images are considered as comic files.
- Converted comic epub cannot be read on TXTPUB but on iBooks.

3. FULLY AUTOMATED EPUB CONVERSION PROCESS
- Synchronized, the files are transformed to ePub automatically.
- During the conversion, finding a proper character set, correcting broken lines and applying markdown are performed all together.

4. COVER CUSTOMIZATION / CONTENTS TABLE AND INSERTION OF IMAGES by MARKDOWN
- Can edit covers, titles and author names.
- Can directly choose an image from Google as a cover.
- Designating headers by using markdown syntax, a contents table will compose 
- Can put images into books by markdown syntax on original text files.

5. TTS (Text to Speech)
- It works well while offline or a screen is locked.
- Adjustment of speed and volume
- Speech Highlighting
- Auto-recognition of multi-language

6. A INSTANTLY RESPONDING EBOOK READER WITH VARIOUS SETTINGS 
- TXTPUB's rendering, navigating and text searching speed are absolutely faster than iBook.
- 8 Premium Themes (Papyrus, Grey, Navy, Chacoal, Hanji, Black, Sepia, White)
- Page Transition Animations + Sound Effects
- Custom Font
- Layout Selection: One Pages/Two Pages
- Adjust Line Spacing
- Reverse a Direction of Tuning a Page
- [iOS7] Multi-lingual dictionaries

7. GET MULTIPLE FILES BY WIRELESS
- CLOUD: Dropbox, Google Drive
- Web: A web browser that can download files are provided
- Can get not only book files but also font files. (OTF and TTF)

8. READ FREE BOOKS OVER 200,000!
- Bookmarked URL of free ebook sites are offered.

9. SET PASSCODE AND HIDE YOUR BOOKS

10. AOZORABUKO's TXT and HTML FILES
- Vertical text rendering
- Japanese Kanji
- Insertion of images
- Recognition of titles (the becomes a contents table automatically)



If you're trying to read text or comic files on iOS, TXTPUB is the best solution ever. TXTPUB converts various type of files to epub automatically. Since we designed every single process which is necessary to make book more legible such as unwrapping broken lines is operated automatically during file sync step, it's really easy to use. Just, put files into out app. That's all.

TXTPUB has another talent. You can put images into covers from Google as well as from your album. Plus, markdown and Japanese aozorabuko's syntax are available.

CONTACT 
e-mail: MIMCreative.CS@gmail.com 
Twitter: http://twitter.com/MIMCreative 
Facebook: http://www.facebook.com/pages/MIM-Creative/395090260553176
TAG: app, iPhone & iPad,Book
---
Similar Apps
---
More from developer
---