The Spelling Bee
Platform: iPhone & iPad
Author: TicTapTech, LLC
Category: Education
Version: 1.5
Downloads: 6K
---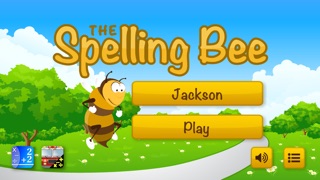 ---
App description:
The Spelling Bee has fun game modes to practice spelling! Enter your weekly spelling words or choose from one of the pre-loaded lists with over 850 words! This app is recommended for preschool – 5th grade. It is great for practicing for tests at school, but it is also awesome for enrichment or summer practice! 

*We have added new features!!!*
•You can now copy word lists from one profile to another on the same device.
•You can now email word lists to other users. This is a great way for teachers to send out weekly word lists!

GAMES AND FEATURES-
•Spelling Swarm: Tap the bees as they move across the screen to spell the words.

•Honeycomb Scramble: Unscramble the letters to reveal the spelling words.

•Alpha "Bee" tize: Tap and drag the words in the list to arrange them in alphabetical order. This is a great way to practice (or learn) the skill of alphabetizing while also becoming familiar with the spelling of the words.

•Spelling Bee: This is the standard test mode where you simply type in the correct spelling.


•Word Lists:  You have the option of recording your own spelling word lists or using the lists pre-loaded in the app. The pre-loaded lists have over 850 words separated into 4 different levels and some special categories. Level 1 begins with lists like "at" words and "2 letter sight words" which are perfect for starting spelling with preschoolers or kindergarteners. The levels gradually progress to words like photosynthesis and camouflage at the end of level 4.  Category lists such as numbers, colors, animals, days and months are also included! When you record your own words, you can also include a sentence with the recording.

•Badges: For each word list, you can try to earn 4 different badges for each of the game modes. Those include the "Alpha 'Bee' Tize" badge, the "Honeycomb Scramble" badge, the "Spelling Swarm" badge and the "Spelling Bee" badge. Badges are earned when a word list is completed without any mistakes. The badges help to show progress at a glance and motivate kids to master the word lists.

•Profiles: Set up as many profiles as you like, so that each child can earn their own badges.

•History: Shows the "Spelling Bee" (test) history, so that students and parents can track progress and see which words are being missed.


WHO SHOULD USE THIS APP?
1.Students with weekly spelling tests: This app lets them practice in a fun way, and keeps records so there is no doubt when they are ready for the test at school. 

2.Homeschoolers: The built in lists would be great as pretests or a starting point for a spelling curriculum. And of course additional words can be added to fit your specific needs.

3.Those just learning to spell: Our lists start at the BEGINNING! Starting kids with words like "cat", "bat", "mat" and fun games is a way to introduce spelling without being overwhelming. All of the words in level 1 only have one or two sound "chunks" and are only 2 or 3 letters.  Because the words are played audibly, it can also help with beginning reading skills as well!

4.Students who need more spelling practice: If your child tends to forget how to spell words even after being tested on them at school, this app could serve as a refresher of many of the spelling words he/she needs to know.

5.Those that need a challenge: If your child is getting all of the spelling words at school correct without even studying, this app could be a great enrichment tool. Have your child work some of the more difficult lists built into the app, or challenge them with creative lists of your own.

For questions or feedback, please contact us at: spelling@tictaptech.com
TAG: app, iPhone & iPad,Education
---
Similar Apps
---
More from developer
---