Busy Dad, Hi-Tech Dude - An Original Interactive Educational Family Storybook
Platform: iPhone & iPad
Author: TabTale LTD
Category: Book
Version: 2.2
Downloads: 6K
---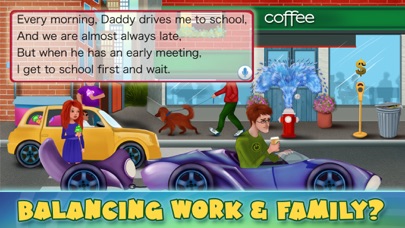 ---
App description:
~~> Busy Parents Will LOVE & Appreciate this Sweet Story of Balancing Work & Family  
~~> A GREAT, Original Tale for All Super-Charged, Hi-Tech Parents - This One's for You! 
~~> A Little Girl Imagines that her Dad has Different Jobs & Doesn't Work So Hard 

Busy, multi-tasking, working parents who desperately juggle the challenges of work and life - this story is for you and your kids! Are you rushing to get your child to school on time? Do you sometimes not make it home for bedtime? Are you tethered to technology finding it hard to pull away at home? We get it!  

This original story of a  busy, hi-tech dad who works day and night will resonate with all working parents who struggle to have quality time with their kids and also get their work done.  In this story, a little girl fantasizes what it would be like if her dad changed jobs. Maybe he should be a farmer or a police officer or a writer.  Dad and daughter go through the options of what life would be like if he had another gig.


Ultimately, the dad doesn't switch jobs, but promises he will spend more time with his daughter. It's a sweet, modern tale of the tugs of technology, work and family. Parents and children can appreciate and enjoy this story together.  For all of those parents whose kids have asked them to "not go to work today" or to "please get another job," this story will make you smile.     

And dads aren't the only busy working parents.  
Don't miss our Busy Mom, Hi-Tech Mom story app. This great, super sweet tale will be loved by both parents and their kids! 
 
Features:
> Tap on all of the street lights and building lights and make them flicker
> Tap the spotlight in the theater and see dad's outfit change for each new job the                                        daughter imagines 
> Interactive elements on each page - cool graphics inside their hi-tech house
> Tap the printer and make it print a sheet of paper with text  
> Tap the big clock and make the hands move
> "Read it Myself" - Allows you to control the reading yourself
> "Auto Play" - Automatically reads the entire story to you
> "Play" - Automatically reads each page of the story to you

ABOUT TabTale
With over 750 million downloads and growing, TabTale has established itself as the creator of pioneering virtual adventures that kids and parents love. TabTale's interactive storybooks provide an exciting reading experience for the most beloved children's stories. Each book inspires young children's creativity and imagination.
Visit us: http://www.tabtale.com/ 
Like us: http://www.facebook.com/TabTale
Follow us:@Tabtale
Watch us: http://www.youtube.com/iTabtale

CONTACT US 
Let us know what you think! Questions? Suggestions? Technical Support? Contact us 24/7 at WeCare@TabTale.com.

IMPORTANT MESSAGE FOR PARENTS: 
* This App is free to play but certain in-game items may be purchased for real money. You may restrict in-app purchases by disabling them on your device.
* By downloading this App you agree to TabTale's Privacy Policy and Terms of Use at http://tabtale.com/privacy-policy/ and at http://tabtale.com/terms-of-use/.
Please consider that this App may include third parties services for limited legally permissible purposes.
TAG: app, iPhone & iPad,Book
---
Similar Apps
---
More from developer
---