Tarot & Numerology
Platform: iPhone & iPad
Author: Phuture Me Ltd
Category: Lifestyle
Version: 4.0.11
Downloads: 158K
---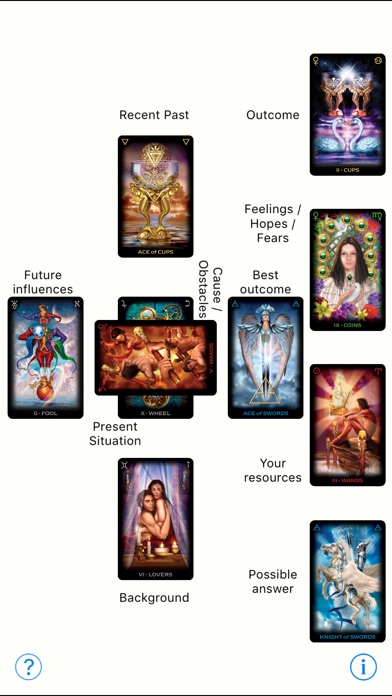 ---
App description:
The ultimate professional Tarot App! 
Customizable to all needs and tastes with multiple in-depth card meaning references. 
Daily Forecasts combining Tarot card for the day and numerology. 
5 Free Tarot decks to choose from, 1 installed by default and 4 more to download for free in-app. 
37 spreads including Celtic Cross and specialized subjects covering Astrology, Forecasting, Love & Relationships, Career, Health, Spirituality and more. 
All functionality is free, no feature unlocks. An additional 16 original decks available for in-app purchase. 
For life guidance a team of two dozen hand picked and vetted professional tarot readers are at hand to read your spreads and also offer their own specialized reading topics.

• Standard 78 Tarot Card Deck offering 378 spread layouts including the option of reversed cards for experts
• Complete set of Pythagorean Numerology calculators
• Daily Forecast as a notification, drop down Today Widget & Apple Watch App.
• Intuitive card & deck selection. You pick the cards. Not the software.

• In-App Tarot Deck Store. Download more Tarot Decks & start a collection!
• Tarot Deck Creator. Use the camera or upload your own art work to make your own Tarot Cards & Decks.
• Tarot Spread Layout Editor. Found a new spread you want to try? Add it to the App using the built in editor. Share it with friends.
• Tarot card reference guide with internet book marked resources make this a powerful Tarot learning tool.
• Tarot Tips. Articles to aid learning Tarot.
• 100% free & unrestricted functionality.
• A team of two dozen hand picked professional Tarot Readers to help you when you really need it

Numerology Calculators covering: 
• Name Numerology
• Forecasting (Personal day, month & year), 
• Life Path & Destiny Numerology with cycles etc.
• Numerology Essence (combines name & D.o.B)

78 card Digital Tarot Deck (Rider-Waite 1909)
• 37 Tarot Spreads, including The Celtic Cross.
• Tarot Deck Store. Browse new decks, buy and install in-app.
• Interactive Tarot card help with bookmarks to internet resources for further card meaning research.
• Save your spreads with notes and keep a journal
• See your Tarot Trends over lunar month as well as all time.
• Need help with a spread or problem? Submit it to one of our Tarot Readers for a professional psychic reading.

Forecasting
• Combined Tarot & Numerology day & week forecasting.
• Tarot event timing spread using the "find the Wheel of Fortune" method. Incredibly accurate!
• Basic Astrology information. Current moon phase and sun and moon zodiac position.

Tarot Decks available for in-app purchase 
• Tarot of Dreams - Ciro Marchetti
• Legacy of the Divine Tarot - Ciro Marchetti
• Tarot Royale - Ciro Marchetti
• Tarot Grand Luxe - Ciro Marchetti
• Tarot Decoratif - Ciro Marchetti
• Tarot de Maria Celia - Lynyrd-Jym Narciso
• Tarocchi Di Marcelo Inciso - Lynyrd-Jym Narciso
• CBD Tarot de Marseille - Dr. Yoav Ben-Dov (FREE)
• Aquatic Tarot - Andreas Schröter (FREE)
• Tarocco Soprafino - Carlo della Rocca (FREE)
• The Short Hand Tarot - Markus Pfeil  (FREE)
• BlueDogRose Tarot - Nakisha E. VanderHoeven
• Badgers Forest Tarot - Nakisha E. VanderHoeven 
• The Riderless Tarot - Nakisha E. VanderHoeven 
• Tarot of the Apocalypse - Światosław Nowicki
• The BirdQueen Tarot - Gretchen Diehl
• The Golden Age of Hollywood Tarot - Lorelei Douglas
• The Lilith Bible Tarot - Lorelei Douglas
TAG: app, iPhone & iPad,Lifestyle
---
Similar Apps
---
More from developer
---