If You Can Manager
Platform: iPhone & iPad
Author: If You Can, LLC
Category: Utilities
Version: 1.1
Downloads: 156
---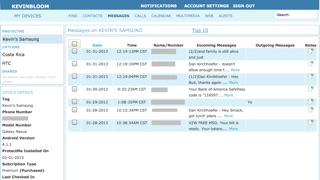 ---
App description:
If You Can Manager (we call it "Manager") is our free management app that enables parents and other users to actively monitor other mobile devices while on the go and is available on all iOS platforms.

Manager is a companion app for our Catch Me If You Can and Protect Me If You Can sister apps.  CatchMe and ProtectMe are advanced agents that are installed on mobile devices that our customers want to monitor/protect.  These agents securely upload all device activity such as contacts, calls, text messages, calendar entries, web activity, photos, videos, sound files and device locations to the cloud where we securely store the data.

Once the data is in the cloud, users can securely access the device data in their account via any web browser or via If You Can Manager, which is available free of charge on iOS devices.

If the need arises, Manager can be used to listen to recorded phone calls or the environmental surroundings of the monitored device.  Yes, we can do that.

Manager can moni
tor an unlimited number of devices.  For example, Manager signed into one account can monitor any number and combination of devices with CatchMe or ProtectMe installed.  In addition, if another user has shared his / her data with you, you can add those credentials and view that device as one that you're monitoring.  Of course, you are only able to see what has been shared with you and those rights can be revoked or increased at anytime.
TAG: app, iPhone & iPad,Utilities
---
Similar Apps
---
More from developer
---