Smart Alarm Clock : sleep cycle & snoring recorder
Platform: iPhone & iPad
Author: NELURRA HOLDINGS LIMITED
Category: Health & Fitness
Version: 8.5.1
Downloads: 617K
---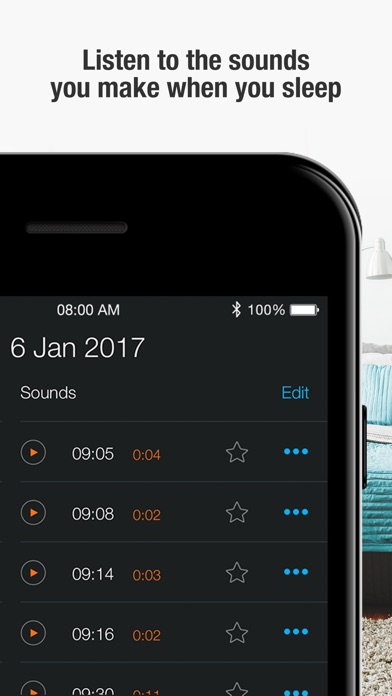 ---
App description:
Your sleep patterns studied inside out. Your night talk demystified. Your snoring detected and recorded. And your mornings always feel right.
You deserve this experience!  

WHAT YOU ARE GETTING

*Lull-you-to-sleep music (Premium, some tunes are available for free)
So that you quickly and peacefully fall asleep. Relaxing melodies, instrumental tunes, guided meditations, sedative lullabies and more. 

*Night noise recording  feature (Premium)
So that you know exactly whether you snore or not, how bad your snoring really is and how you sound when you are talking in your sleep.

*Sleep cycle monitoring (Premium)
Illustrates your sleep cycle phases to help you finally see how long deep sleep and light sleep last in your case. No wearables required, just put it on your mattress and enjoy the comprehensive graphs the next morning.

*Apple Health integration (Free)
Smart Alarm sends your sleep duration and sleep phases data to Apple Health. Enable data export to Apple Health and have all your sleep statistics in one place.


LISTEN TO WHAT OUR USERS ARE SAYING

"I didn't know what to think about this app when I got it. But I set it the first night and woke up feeling great! It listens to my sleep, and somehow knows whether I'm in deep sleep and not."

"Has allowed me to see how well I'm sleeping and review my snoring patterns to understand better what triggers those."

HOW TO USE SMART ALARM

Open the app, decide on the time your tomorrow morning will begin. 

Tap the music icon, browse through a selection of alarm tones, or add your own favorite song. 

Now move on to the chill-out section. 

Here you'll find tranquilizing tunes that will help you go to sleep. Choose the tune for tonight 

Now put your phone on your mattress, lay back, let the chill-out music or guided meditations take your mind off whatever is weighing on it and slowly drift to sleep. Good night! 

While you are sleeping, the smart algorithm of Smart Alarm Clock starts to track your sleep cycles. The alarm will only go off in the lightest sleep phase in your selected time range (can be modified in Settings) when your body is naturally ready to wake up. 

START THE DAY OFF ON A HAPPY NOTE!

Play the night noises. Listen to the interesting things you said while asleep, send the funniest ones to your friends. Pay attention, night noise recording feature and chill-out music can't be used simultaneously. See what works best for you.

Download it now for free. You'll be asked whether you want to start a free trial — go for it, taste every feature! 

Don't be afraid, If you don't think Smart Alarm is quite for you, cancel your subscription before the free trial ends (just set yourself a reminder).  It's simple. Go to Settings on your iPhone — tap iTunes & App Store – tap Apple ID at the top – View Apple ID – enter your Apple ID password (of fingerprint) – tap Subscriptions – select Smart Alarm  – Cancel subscription – Confirm when prompted. 

If you love your free trial, do nothing, the auto-renewable subscription will start automatically when the free trial ends. You can stop the automatic renewal of subscription anytime. 

Nights with Smart Alarm will totally change your mornings. For the better. 

Download it for free now to get the mornings you really deserve.

The optional Premium subscription costs $4.99 per month.

There is a free trial period during which you may try out the Premium version of Smart Alarm Clock without being charged.The monthly subscription cost will be charged from your iTunes account after the end of the 7-day trial period. You can manage or cancel your auto-renewable subscription under user settings in iTunes after the purchase. The subscription will be auto-renewed 24 hours before the subscription period ends with the same kind of subscription you already bought and at the same price. It's not possible to abort the subscription during the time it's active. Please, see the Terms of Use here: https://sport.com/terms_of_use/
TAG: app, iPhone & iPad,Health & Fitness
---
Similar Apps
---
More from developer
---