Weather Station Live
Platform: iPhone & iPad
Author: Nikola Stepan
Category: Weather
Version: 1.4
Downloads: 644
---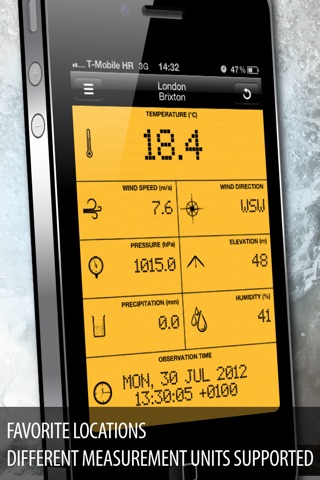 ---
App description:
Application shows real-time weather data that are collected from network of automatic weather stations. 

This network consists of low cost automated weather station that anyone can buy, connect it to the Internet and contribute the conditions. Detailed weather info includes temperature, pressure, wind speed/direction, humidity and precipitation.

Features:

* Very accurate REAL-TIME weather data!
* Support for more than 100 countries
* More than 40,000 weather stations world-wide
* Fast data refresh
* Quick stations search
* 3 different "LCD" skins
* Different weather measurement units supported
* Favorite locations
* Optimized for iPhone "Retina" screen 
* iPhone/iPad support 

Customer reviews:

"What a lovely app! Weather straight from the horses mouth. Great design!"
-- Epaturun

"Great little app, clear and concise. Refreshing change from the over hyped graphics so common these days."
-- W453

"This is a good ap, for weather nuts."
-- Pat2921 

"I really like it for monitoring my own station and checking others."

-- Larry3570

"Nice app does what it says on the label"
-- Scooby699 

"Superb weather app. Provides instant weather surface observation at an instant."
-- Miyaa

"Small, simple but smart!"
-- Jonnykilduff

"This is exactly what I was looking for."
-- Milhaus
TAG: app, iPhone & iPad,Weather
---
Similar Apps
---
More from developer
---