Prism Bills & Money
Platform: iPhone & iPad
Author: Mobilligy, Inc.
Category: Finance
Version: 2.12.02
Downloads: 620K
---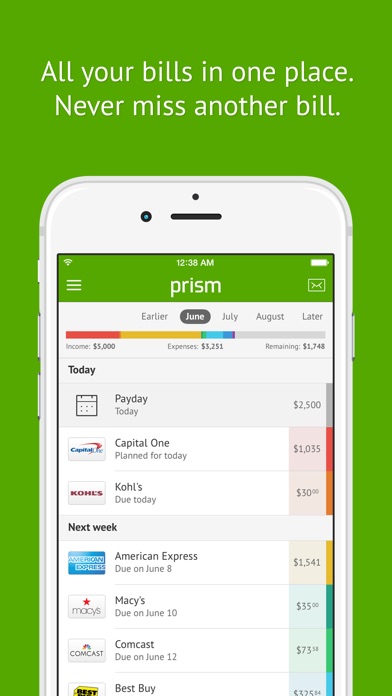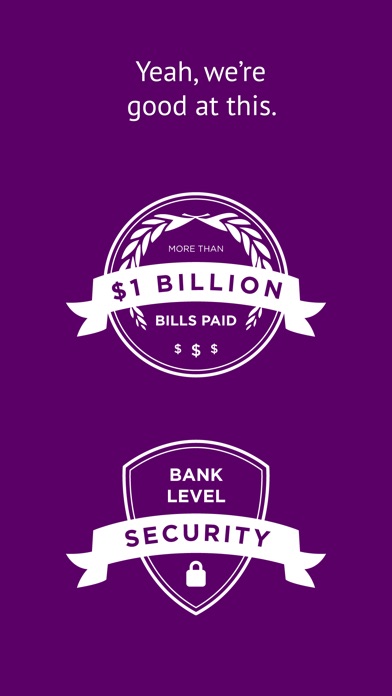 ---
App description:
Prism automatically keeps track of all your bills' due dates in one place, and lets you pay them without remembering a million passwords. Never forget a bill again. And protect your credit score, reduce debt and avoid late fees!

NerdWallet calls it the "Best app for paying and tracking bills".

WHAT CAN I DO WITH THE PRISM APP?    ------------------------

TRACK BILLS
-Get reminder notifications for upcoming bills
-See when bills are due and how much you owe.

CHECK BALANCES
-Monitor account balances for banks, credit cards, giftcards and more
-Get payday notifications and know what you can spend, when.

PAY BILLS
-Pay bills real-time directly from within the app. Most payments process in a few minutes.
-Use a credit card, debit card or bank account.


HOW DO I GET STARTED?    -----------------------
1. Download Prism for your phone or tablet
2. Choose all of your billers. Prism will sync your account balances and bills and present them to you directly in Prism. 
3. Pay your bills right from the app!



WHY CHOOSE PRISM?   ------------------------

SECURITY: 
-Sensitive information is firewalled
-All communication is encrypted
-No sensitive information is stored on your device

SPEED
-Unlike competing apps, Prism lets you make payments in minutes.

CUSTOMER SERVICE
-Our Seattle-based Support Team is available to help answer questions right in the app. Just ping us!


1000s OF BANKS AND BILLERS: 
BANKS: JPMorgan Chase, Bank of America, Citigroup, Wells Fargo, Bancorp, Capital One, Mellon, HSBC, PNC, TD Bank, SunTrust, Fifth Third, Santander Bank, U.S. Bank. We also support most credit unions, including USAA, Navy Federal Credit Union, State Employees Credit Union, Pentagon Credit Union, Boeing Employees Credit Union, America First Credit Union, Suncoast Credit Union, Alliant Credit Union, Schools First Credit Union, Digital Credit Union, Golden1 Credit Union, and many others.
CREDIT CARDS: AMEX (American Express) Credit Cards, Discover Credit Cards, Bank of America Credit Cards, Capital One Credit Cards, Citibank Credit Cards, Credit One Credit Cards, Macy's Credit Cards, Walmart Credit Cards, GAP Credit Cards, Office Depot Credit Card, Target REDcard, Barclaycard, JCPenney Credit Card, Victoria's Secret Angel Card, Kohl's Credit Card, GE Capital Credit Cards, Best Buy Credit Cards, Amazon.com Cards, Home Depot Credit Cards, Lowe's Credit Cards, Sears Credit Cards, Arco Fuel Credit Cards, and hundreds more.
BILLERS: AT&T, Verizon Wireless, Sprint, Comcast, Metro PCS, T-Mobile, Orchard Bank, DirecTV, Netflix, Time Warner, GEICO, DISH, PayPal, Bill Me Later, Sallie Mae Student Loans, State Farm, Travelers, Progressive, Cox Communications, Charter Communications, Ally Auto, Allstate, Travelers, National Grid, and thousands more, including many utility, mortgage, rent, and loan providers.


If you're looking for a Mint or Manilla replacement, look no further! If you're looking for Mobilligy, Mobiligy, Mobilogy, Mobillogy, Prisim, or Prizm, you're in the right place!
TAG: app, iPhone & iPad,Finance
---
Similar Apps
---
More from developer
---