Tap and Zap - A "Through the Camera" Ray Gun App
Platform: iPhone & iPad
Author: Extra Feet, Inc.
Category: Entertainment
Version: 1.0.1
Downloads: 1614
---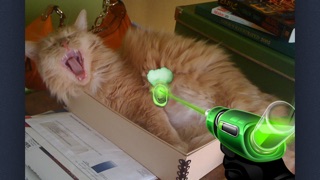 ---
App description:
Just flip your phone sideways, aim, tap and shoot with a variety of futuristic ray guns!

Zap your cat, zap your dog, zap your boss! Zap anything that you can look at through your camera! Your very own arsenal containing 5 ray guns not available anywhere else! 

The deadly Freeze Ray is a staple of Evil Geniuses! It and the rest of these awesome guns will thrill you and your friends! You'll have duels or just blow off some steam while you secretly shoot the boss full of futuristic holes instead of getting angry with them* The stress relief alone is worth a mint. 

• Augmented reality FPS shooter
• Flip your camera sideways, aim and shoot!
• Multiple guns to choose from
• Portrait (side) views as well
• High quality artwork
• Fantastic Sounds

* While these are very dangerous virtual guns, and in the virtual world, the holes are made-a-plenty, no 'real world' actual holes are created by this app. All our make believe futuristic guns are completely safe for pointing at real people and an
imals and don't really vaporize them, so feel free to point them anywhere you need to have fun!
TAG: app, iPhone & iPad,Entertainment
---
Similar Apps
---
More from developer
---