If you're happy & you know it - Sing Along
Platform: iPhone & iPad
Author: TabTale LTD
Category: Education
Version: 3.7
Downloads: 156K
---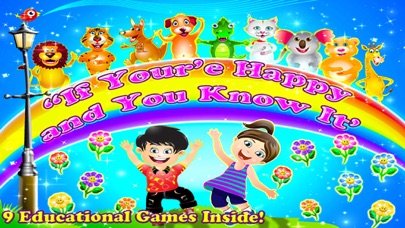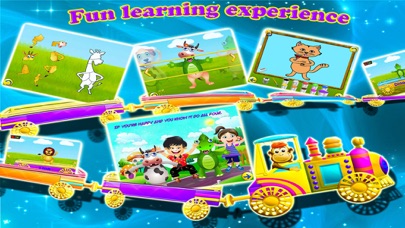 ---
App description:
-> Full Interactive Song + 9 Amazing Educational Games Inside 
-> Top HD graphics and superb musical soundtrack 
-> More than 2,000,000 Downloads!
-> Selected New & Noteworthy by Apple

Come enjoy the happiest children's song with your young ones. Carefully designed for babies, toddlers and children of all ages, this application is a unique, new production of the classic song. Fabulous animated activities, ideal for an engaging, educational, visually and audibly exciting experience. Turn up the volume and let the family fun begin!

 INTERACTIVE SING ALONG
Animated, Interactive sing along story book for children - The famous "If you're happy and you know it" song comes to life in an engaging rich song and dance experience. Each page presents an activity to see, touch, interact and even dance to. 

 MIX AND MATCH
The lovely animals got all mixed up! They need your help to be put back together again. Create a match of head, body and feet to complete the animal.

 ANIMAL MATH
Five unique preschool math games. Presented with adorable animals that make learning basic concepts of math so much fun. Learn about counting, numbers, larger, smaller and more. 


 PEEKABOO FOREST
Where are the animals hiding? Look behind the moving objects and find them. A joyful interaction of animations and sounds create a fun educational activity for babies, toddlers and children. Practice fine motor skills and improve concentration in this exciting hide and seek game

 THE MAGICAL ANIMAL KINGDOM
In the magical kingdom each animal has its own special story to tell, slide your finger on the drawing to magically color the animal as its story is being told. Coloring the animals in magical colors is more fun than ever before

 ANIMAL PUZZLES
High quality, super fun and simple to master puzzle game.Connect the puzzle pieces to construct your favorite animal images

  COLORING BOOK
Enjoy wonderful animal coloring pages in a simple and  fun coloring game. 

 THE ANIMAL TRAIN
All aboard! Join the animal train and take a ride with 20 animals. Learn about animal names, voices and vocabulary as you spell the names of animals on the train

 MEMORY MATCH
Intuitive, educational memory matching games. Match pairs of animals to learn their voices and names. 

 Animal Quiz
Lets learn animal names! Tap on the correct animal every turn and move on to the next challenging and fun stage.

Note: The Animal train and Animal Quiz games are completely free and so are the first few stages of all other games. Get many more fun-filled screens, activities and features with an easy to use in-app purchase inside the app.

ABOUT TabTale 
With over 1 billion downloads and growing, TabTale has established itself as the creator of pioneering virtual adventures that kids and parents love. With a rich and high-quality app portfolio that includes original and licensed properties, TabTale lovingly produces games, interactive e-books, and educational experiences. TabTale's apps spark children's imaginations and inspire them to think creatively while having fun! 
Visit us: http://www.tabtale.com/ 
Like us: http://www.facebook.com/TabTale
Follow us:@TabTale
Watch us: http://www.youtube.com/Tabtale


CONTACT US 
Let us know what you think! Questions? Suggestions? Technical Support? Contact us 24/7 at WeCare@TabTale.com.


IMPORTANT MESSAGE FOR PARENTS: 
* This App is free to play but certain in-game items may require payment. You may restrict in-app purchases by disabling them on your device.
* By downloading this App you agree to TabTale's Privacy Policy and Terms of Use at http://tabtale.com/privacy-policy/ and at http://tabtale.com/terms-of-use/.
Please consider that this App may include third parties services for limited legally permissible purposes.
TAG: app, iPhone & iPad,Education
---
Similar Apps
---
More from developer
---