Sex and the City - Tidbit Trivia
Platform: iPhone & iPad
Author: Brain Rice Games, LLC
Category: Games
Version: 1.1
Downloads: 1682
---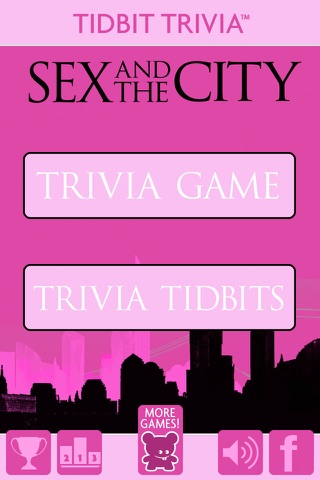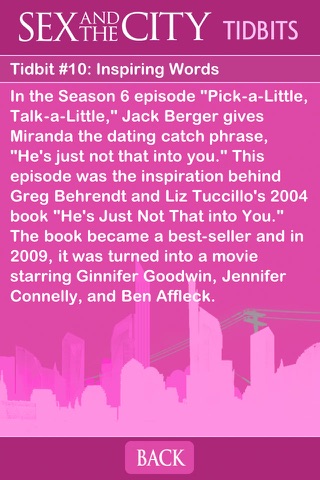 ---
App description:
Sex and the City - Tidbit Trivia tests your knowledge of the HBO series! It features over 250 questions spanning all six seasons of the show, as well as the two movies!

As a bonus, many of the questions feature trivia tidbits. Answer these questions correctly and you will unlock an assortment of interesting behind-the-scenes tidbits about the Sex and the City!

Here's what people are saying about Sex and the City - Tidbit Trivia:

"I love this app as much as my Bellini Baby Basket!" -- Charlotte

"I love sex!" -- Samantha

"Samantha loves sex!" -- Miranda

"Meanwhile, uptown, all I do is play Tidbit Trivia!" -- Carrie

Features:

** More than 250 SATC questions, ranging from easy to for-the-diehard-fans difficult!

** 22 unlockable trivia tidbits about Sex and the City!

** Compare scores with friends and unlock achievements through Game Center!

NOTE: This is an unofficial Sex and the City trivia game. It is not endorsed by or affiliated with HBO in any way shape or form.
TAG: app, iPhone & iPad,Games Sexy, Adult, Porn, Hot
---
Similar Apps
---
More from developer
---