Pulmonary Auscultation
Platform: iPhone & iPad
Author: Thiago Robis de Oliveira
Category: Medical
Version: 2.0
Downloads: 172
---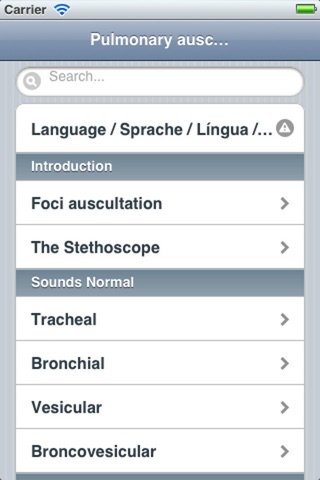 ---
App description:
Learn the sounds of the lung is an art! And that art must be learned by health professionals, students and curious!
With the application "Lung auscultation", you get the most relevant lung sounds, accompanied by graphics and full description of excellent sound quality!

In addition to the sound itself, you also have access to:
* Illustrative image, it helps to understand the mechanism and the best time to hear the sound.
* Brief description, containing, among others:
Where better to listen;
** What diseases or conditions is more common to be observed;
Maneuvers that help auscultation;
Relations with other noises;
Clinical presentation.

In addition, you have unique modules, covering:
Description and use of the stethoscope;
Symptoms: Lobar Pneumonia and Pulmonary Edema.

See the list of sounds included in this version:

* Sounds Normal
** Tracheal
** Bronchial
** Vesicular
** Broncovesicular
* Respiratory Sounds
** Wheezing
** Rales
** Stridor
** Pleural Friction
** Sounds Vocals
* Clinical Auscultation

** Lobar pneumonia
** Pulmonary Edema

# # # Check up to 4 sound examples per item! # # #


Download now the Pulmonary auscultation and master this art you too!

** Headphones are recommended for better sound quality!
TAG: app, iPhone & iPad,Medical
---
Similar Apps
---
More from developer
---