Forever Drive
Platform: iPhone & iPad
Author: supermono limited
Category: Games
Version: 1.43
Downloads: 156K
---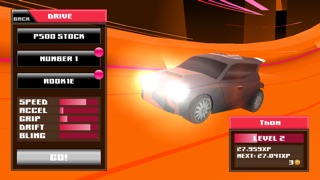 ---
App description:
From the makers of MiniSquadron and EpicWin we present FOREVER DRIVE!

Forever Drive is a racing game set in a beautiful 3D futuristic city made, in part, by YOU! Using the BUILT-IN Track Editor, tracks created by different players are joined together into a never-ending road to drive! Customise your car from a huge selection of paintwork and license plates and prepare to drive as far as you can before the clock runs out! Accumulate miles driven to LEVEL UP and unlock even more cars, each with their own unique handling.

A race against time through the streets of the future!

===============================
Features:
- Unique In-Game Track Editor. A streamlined and extremely easy to use editor to make the most beautiful, winding city tracks with just a few touches!
- Race against the clock to accumulate XP for LEVELLING UP!
- 4 different types of control mechanism to drive your favourite car!
- Dodge strange traffic of the future!
- Pick up... PICK UPS!
- Unlock cars, paintwork, buildings and license plates!

- Custom 3D engine rendering outrageously awesome graphics of the FUTURE!
- Fully playable and unlockable without the need for buying any IAP if you so desire.

REQUIRES 3GS AND ABOVE HARDWARE.

Use these links to keep up to date with news and other amusing thoughts:

Web: www.supermono-studios.com
Facebook: www.facebook.com/SupermonoStudios
Twitter: @mrfungfung / @SupermonoGames
TAG: app, iPhone & iPad,Games
---
Similar Apps
---
More from developer
---