Sketch Pad 3 - Unlimited Canvas
Platform: iPhone & iPad
Author: Catalystwo Limited
Category: Productivity
Version: 3.8.20
Downloads: 61K
---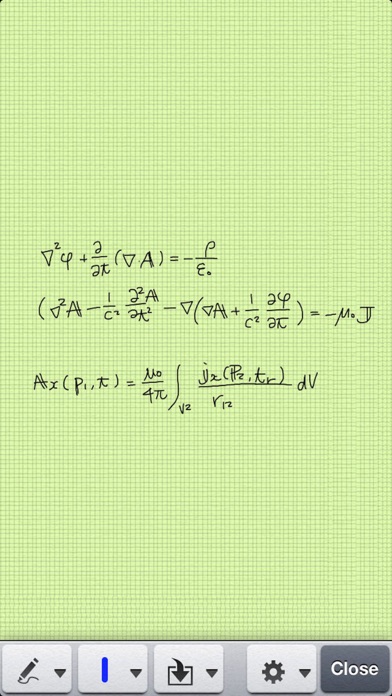 ---
App description:
Thank you for all your support. Sketch Pad has now been downloaded more than 1,200,000 times

Best app ever - Love it …  by Syd-a-ney
Excellent app. Very useful….  by Fettner 
Very useful for taking notes with the addition of adding pictures to them…  by J Allard 
Best notes application EVER!….. by KunovicIvan
Best doodle app... simple and intuitive. This one is excellent…  by Macnd62478

Are you artistic or creative?

Use Sketch Pad 3 on your iPad to:
.... doodle, sketch or draw
.... write lists or memos
.... jot down notes during lectures
.... share your inspirational thoughts with friends

(Also available on iPhone and iPod touch)

Sketch Pad doesn't waste precious paper and is quick, simple and fun from pre-school to retirement.

Use your finger as a pen and choose:
.... 3 pen-stroke sizes.
.... 7 colors for iPad (4 for iPhone/iPod touch) 
.... erase all or portions of your drawing or list if you make a mistake or change your mind.
.... unlimited edits of pen-strokes with undo and redo functions.

.... zoom in/ zoom out simply by pinching in any mode, or double tap in scroll mode.
.... cut and paste.
.... drag stroke.

Sketch Pad automatically saves your work on closing the application so you can instantly continue next time you open Sketch Pad.


*** FEATURES ***

- Unlimited canvas size
- Trackpad for easy scrolling
- Customizable grid lines
- Customizable background colour
- Smooth line with rounded ends
- Organizing document folders
- Export to Twitter, Evernote, Google docs, Picasa, Dropbox, PDF, Air-Printing compatible printer, other apps, email, photo library and Mac.
- Flag a sketch or note
- Assign Alarm to a sketch or note
- Palm Rest (ideal for stylus users)... Fully adjustable for either right handed or left handed users (iPad only)
- Two finger scrolling in writing mode
- Zooming in/out by double tapping in browse mode
- Zooming by pinching gesture can also be selectable

*** TIPS ***

Use two fingers and swipe the screen to scroll in Pen mode.

Use Palm Rest so you don't get unwanted imprints.

====
*** Because of bugs in iOS 5, iPad 3rd generation with Retina Display model requires free upgrade to iOS 6 to use this app.  It works correctly on other devices with iOS 5. You don't have to upgrade to iOS 6 if you are not using iPad 3.


iCloud sync function is no longer supported from v3.7.
Floating toolbar feature has been removed from v3.7.

Version 3.6.1 had a bug in which ** free ** version crashed. 

(c) iStokcphoto 2833639
TAG: app, iPhone & iPad,Productivity
---
Similar Apps
---
More from developer
---