How to Protect Yourself from Spyware and Adware
Platform: iPhone & iPad
Author: NAY MIN THU
Category: Lifestyle
Version: 1.0
Downloads: 174
---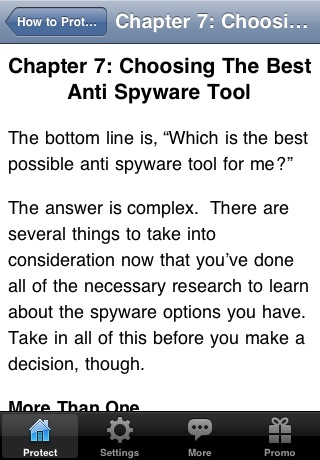 ---
App description:
Never Worry About Someone Watching Your Each-And-Every Move Online, Educate Yourself With This Hard Hitting E-Book That Will Leave No Stone Unturned About Adware/Spyware!

You Can Now Log On To The Internet With No Worries About Whether Someone Is "Spying" On You Waiting To Steal All Of Your Information And Benefit From All Of Your Hard Work!

Here is what you will learn inside...

★ Adware/Spyware Destroying Your Computer

★ The Different Ways That Adware/Spyware Can Spread Throughout Your Computer 

★ The Different Ways To Get Rid Of Adware/Spyware 

★ Anti Adware/Spyware Programs

★ Extensive Research Into Adware/Spyware

★ Choosing The Best Anti Adware/Spyware Tool For Your PC

★ Computer Security And Adware/Spyware

★ Different Programs You Need To Avoid To Prevent Adware/Spyware

★ The Legal Issues

★ You Will have A Checklist To Follow To Avoid Further Issues

★ and much, Much More!

*** On Sale Now! (Normal Price $15.99) ***

Get it now before promotion ends!
TAG: app, iPhone & iPad,Lifestyle
---
Similar Apps
---
More from developer
---