Lower Your Cholesterol in 30 Days
Platform: iPhone & iPad
Author: NAY MIN THU
Category: Health & Fitness
Version: 1.0
Downloads: 300
---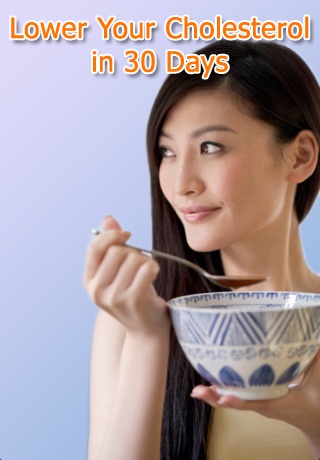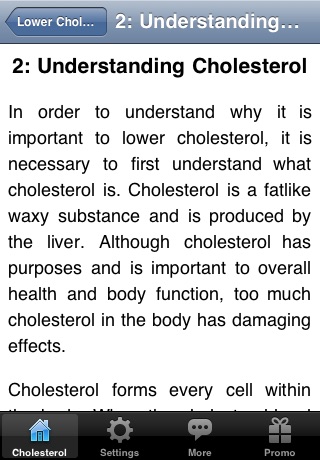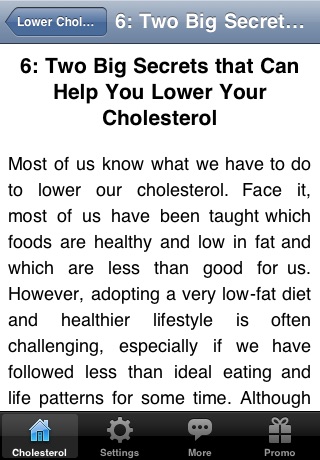 ---
App description:
Discover How To Lower Your Cholesterol in 30 Days!

It's hard for busy people to be worried about their cholesterol at every meal. And since your cholesterol naturally rises as you get older, it seems to sneak up on you without warning.

Reversing rising cholesterol levels can be done safely, quickly, and painlessly if you know what you're doing. With a few expert tips you can balance those cholesterol levels and put your doctor at ease. (Along with your loved ones.)

You don't have to spend your life concentrating on what will or will not raise your cholesterol levels. All it takes is some solid, truthful information to put in the back of your mind when you go through life. Then you can balance your cholesterol levels faster than you thought possible.

You don't have to be a nutritionist or health expert to start making smart decisions.

If you feel like it's time to start taking your rising cholesterol levels seriously, all it takes is a few good pointers to start balancing things out.


When your cholesterol levels are too high, you can be in real danger. Your doctor knows it, you know it, and your family knows it.

High cholesterol levels have a way of sneaking up on people. Suddenly you're being told you have a real health risk, but you feel pretty normal. How can this be? The doctor must just be being over cautious.

If only that were the truth. When your cholesterol levels aren't balanced, you can be in real danger. It doesn't have to take long to reverse the process if you put a few good strategies into play. You don't have to eat oatmeal every day, you just have to follow...

The Amazing Secret Of Lowering Your Cholesterol In 30 Days!

Often, all it takes is a few relatively painless tweaks to your lifestyle to see your cholesterol levels balance out in 30 days.

...here is just SOME of the information you will find inside:

# When cholesterol is your best friend. 
# Which foods are going to raise your cholesterol level every time. 
# What people mean really when they say the words "cholesterol levels."
# 3 ways to change your life habits for better cholesterol levels.
# How to handle cooking oils that are making your cholesterol readings skyrocket.
# When it's OK for your cholesterol levels to be rising.
# Find out if genetics really do play an important part in determining your cholesterol levels.
# How cholesterol effects your body for the worse. Are you at risk?
# 7 ways to tweak your meal times for better health.
# 8 ways to cook your meals that let you consume less saturated fats.
# 5 foods to bring home from the grocery store on your next visit.
# One of the best things you can do for your cholesterol levels
# 61 vegetables you may not have tried yet. Your new favorite veggie might be on this list.
# 35 fruits that you've possibly never tasted (and are missing out!)
# 5 ways to make it easier to transition to healthier meals (and have fun doing it).
# 7 foods to have more often.
# 10 quick tips for lower cholesterol levels.
# 2 little used secrets to lower your cholesterol. And two battle plans to make it happen.
# 14 alternative remedies and supplements that may help balance your cholesterol levels.
# 8 more ways to painlessly tweak your eating habits.
# 10 questions to ask your doctor at your next visit. (Pages 40-42)
# 8 common myths and misconceptions about cholesterol.
# 11 approved places to seek out more qualified information about cholesterol and your health.

And there's MUCH more!

*** On Sale Now! (Normal Price $9.99) ***
Get it now before promotion ends!
TAG: app, iPhone & iPad,Health & Fitness
---
Similar Apps
---
More from developer
---