Amazing X-Ray FX ³ : FULL BODY in HD
Platform: iPhone & iPad
Author: IGRASS PTY LTD
Category: Medical
Version: 2.0
Downloads: 640
---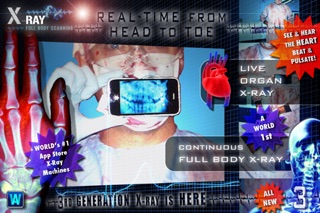 ---
App description:
► Amazing X-Ray FX 3 - The 3rd generation of the World's #1 App Store X-Ray machine. Experience the World's 1st FULL BODY X-Ray machine with LIVE ORGAN scanning! Never before has it been possible to X-Ray your entire skeleton from head to toe CONTINUOUSLY using REAL-TIME manual control. Want to know more?

► With incredible LIVE ORGAN X-Ray, be amazed as you scan over the chest area to see & hear the HEART BEAT & pulsate within the rib cage! This has to be seen to be believed.
 

Using your iPhone/iPod touch, X-Ray your FULL BODY continuously in REAL-TIME. 

You could start at the SKULL, scan down the NECK & over the CHEST area to see the HEART BEAT & THROB within the RIB CAGE. Then move back up the skeleton towards the SHOULDER blades, continuing on down the length of the ARM, crossing the ELBOW, WRIST & HAND bones. Then head in the direction of the PELVIS, down a LEG, across the KNEE, finishing off at the extremities of the ANKLES & FEET.

With Amazing X-Ray FX 3, you decide where you want to go.


All the movements of the X-Ray scanning are controlled by you in real-time, by gently tilting your iPhone/iPod touch over the body area you would like to X-Ray (accelerometer sensor based).  Within minutes you will master the art, so you can completely fool your friends into thinking your iPhone/iPod touch doubles as an incredible FULL BODY, LIVE ORGAN X-Ray machine. 

The once impossible is now finally a reality in this 3rd generation version. 

With over 6,000,000 previous generation Amazing X-Ray FX owners, you need to try this ALL NEW 3rd Generation version to see why this continues to be the World's #1 App Store X-Ray machine.

Be blown away by just how realistic this stunning X-Ray looks, an effect achieved by an advanced multilayering* technique of hi-res X-Ray skeletal bone images, subtly moving in 3D like phased sync. X-Ray authenticity has never been more amazing, completely re-engineered. Included also is the awesome all new LIVE ORGAN X-Ray feature that has to be seen to be believed.  Numerous X-Ray settings are also available including re-sizing, flicker intensity, movement sensitivity & directional flip options.

You will swear this is the real deal. 

Amazing X-Ray FX ³ : Get the World's 1st & largest FULL BODY X-Ray machine with LIVE ORGAN scanning today. The expressions of shock & awe on your friends & families faces will be priceless.


▌X-TREME FEATURES:
────────────
✓  3rd generation technology lets you seamlessly X-Ray FX ³ your entire skeleton, completely in real-time from head to toe using silky smooth accelerometer based movement control.
✓  See & hear the heart beat & pulsate within the rib cage with LIVE ORGAN X-Ray.
✓  Experience unrivalled X-Ray authenticity, enhanced by a multilayering* technique & tunnel vision effect.
✓  AUTO-Movement mode:  Perfect for those who don't have the time or patience to master the manual control. Includes adjustable movement speed control.
✓  Auto-spatial calibration to allow control at any starting angle.
✓  Fully configurable:  X-Ray re-sizing adjustment setting (to match your bone size),
✓  Horizontal & vertical movement sensitivity adjustment & directional flip options.
✓  X-Ray flickering intensity.  
✓  Includes a mind blowing Holographic 3D effect on the main page.

...MORE FEATURES COMING SOON AS FREE UPDATES.

* NOTE: This app is designed to run on all iPhone/iPod touch models. However, the highest quality settings & the multilayering technique are fully enabled on the following models only: iPhone 3GS, 3rd Gen iPod touch (32GB/64GB) & the upcoming iPhone 4. Due to hardware & memory limitations of all other older devices, the multilayering technique is disabled & the X-Ray quality reduced.


From the makers of the Amazing X-Ray FX series, Galactic FX², Food Additives - Quick Guide, Conspiracy Gravity Pen, Baby Babble & KungFu FX.
TAG: app, iPhone & iPad,Medical
---
Similar Apps
---
More from developer
---