Chronicle - personal journal and secret diary - write notes
Platform: iPhone & iPad
Author: Steven Romej
Category: Lifestyle
Version: 1.4.1
Downloads: 6K
---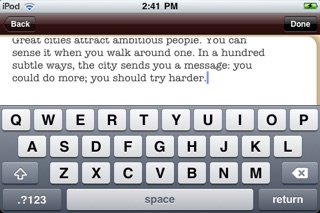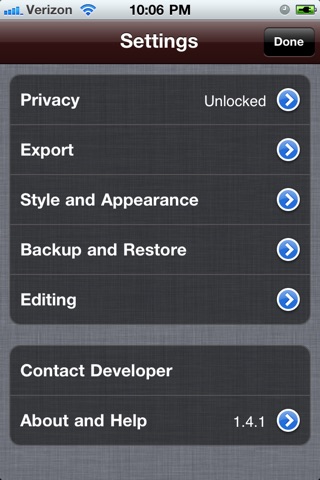 ---
App description:
Top 150 iPhone app at a great price! -- Chronicle is the perfect way to keep a journal or diary on the iPhone.  Also great for writing and searching notes. Features: landscape editing, add pictures, change fonts, background colors, upload to Google Docs, privacy lock.

Let your thoughts flow.

Swipe to delete.  View your photos by tilting left into landscape mode.

Write comfortably in portrait or landscape mode and add pictures to your entries. Need to keep your thoughts private? Enable a passcode and you'll be the only one that can unlock the diary.

You can annotate a day with a smiley, a frown, a star, or one of many other icons. To add a picture from your photo library, tap the photo grid icon.

Tired of the notes app on the iPhone? Use Chronicle to store your notes or lists. The built-in fast searching will make finding things easy – it even shows you the text around the word you searched for, just like Google does.

Safely upload your whole diary to Google Docs. You'll be able to download your writings as a Word doc or PDF. 


Usually, your Google Docs login is your email address.  Let me know if you have trouble.

Write right where you are.
 
FEATURES

* Autosave so you don't lose your thoughts
* Privacy lock - pick a passcode and keep others out
* Export your entire journal via email or upload to Google Docs
* Choose from several fonts.
* Adjust the size and shade of your text so it looks great
* Pick a background color (behind the page)
* Create backups from within the app and save via iTunes or Dropbox
* Fast search helps you dig into the past
* Tap the date on the page to back-date entries
* Add photos from your photo library
* Write in portrait or landscape
* Create multiple entries for any day if you want, or keep editing the same one.

SUPPORT

I'm here to help.  Contact me by visiting slidetorock.com
TAG: app, iPhone & iPad,Lifestyle
---
Similar Apps
---
More from developer
---