WDW What-2-Ride Walt Disney World Edition
Platform: iPhone & iPad
Author: FrearBros Labs Ltd
Category: Travel
Version: 1.0.4
Downloads: 60K
---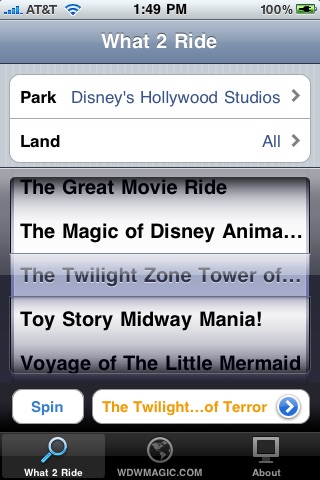 ---
App description:
Do you ever find yourself at Walt Disney World and can't decide on which attraction to ride next? Or maybe you visit with family and friends and have trouble making a group decision on what to do next?
 
'What 2 Ride' takes all of Walt Disney World's amazing attractions, and at your command, randomly chooses, by location, the next ride for you to experience.
 
'What 2 Ride' works like this:
 
1. First, choose a park
2. Next, choose a land
3. Hit the SPIN button or SHAKE your iPhone
4. 'What 2 Ride' then randomly chooses a ride for you based on the locations you selected
 
Once 'What 2 Ride' makes a selection for you, just by touching a button, you can access the attraction description and details, visitor ratings and reviews, photos, refurbishment info, and all the latest news for that attraction.  Constantly updated, the attraction information is brought to you by WDWMAGIC.COM, one of the largest and most comprehensive unofficial Walt Disney World fan sites on the internet.
TAG: app, iPhone & iPad,Travel
---
Similar Apps
---
More from developer
---