Real Deer Hunting
Platform: iPhone & iPad
Author: Sunstorm Interactive
Category: Games
Version: 1.06
Downloads: 78K
---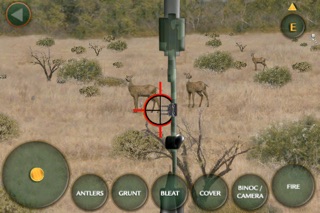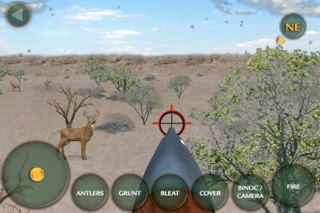 ---
App description:
Real Deer Hunting boasts realistic deer behaviors, outstanding graphics, and the most immersive hunting experience available.

-Top 10 Simulation Game
-Top Sports Game
-Top 100 All Games

Introducing Real Deer Hunting from the developers of the original Deer Hunter game – and founders of the hunting game genre back in 1997.  Real Deer Hunter is the first in a series of ultra realistic hunting games.

Hunt the hardwoods of snowy Indiana or the scrubby plains of rugged Texas all while being surrounded by the sounds of nature, blowing clouds, falling snow, or pouring rain!

Use your hunting skills to call in doe, bucks, or elusive, non-typical monster bucks! Deer have real-life behaviors: they wander to food sources, hear your calls, and respond to your scent and movement.  A spray of cover scent will keep you hidden while you spot distant deer with range-finding binoculars. Use rattling antlers and doe bleat or buck grunt calls to attract the biggest buck for your trophy room.  Unlock new stands as you work toward the most prized hunting spots in the state! 


GAME FEATURES: 

* Amazing, realistic deer behavior for the best in hunting simulation

* Realistic location art and environment sound effects accurate to the actual hunting areas 

* Selection of weapons: a shotgun, rifle with scope, and compound bow

* Choose to hunt from 18 different hunt stands in Texas or Indiana

* Realistic weather conditions including wind, moving clouds, rain and snow effects

* All the tools of the trade - rattling antlers, a buck grunt call, a doe bleat call, and binoculars for luring deer in for a clean shot.

* Track your progress with ongoing hunting statistics: number of hunts, longest shot, biggest buck, and others...  

* Fill your trophy room with doe or up to 8 different trophy bucks including monster bucks and non-typical racks 

* Brag about your trophy room with friends by emailing them your trophy room and hunting statistics

Can you bag the big bucks?  

Visit us on the web at:  
www.sunstormgames.com

Please email us your comments.  We value your opinion and want to build games that you want to play.  Email us at:  comments@sunstorm.net

Follow us online at:  
twitter.com/sunstormgames
TAG: app, iPhone & iPad,Games
---
Similar Apps
---
More from developer
---