Fast Food Calorie Counter
Platform: iPhone & iPad
Author: Mobigloo, LLC
Category: Health & Fitness
Version: 1.0.54
Downloads: 70K
---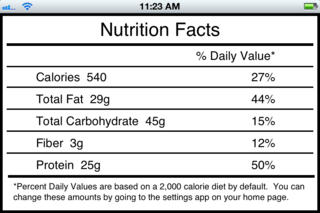 ---
App description:
Trying to reconcile your diet with your love for fast food? With this handy fast food restaurant nutrition guide, you can keep your diet on track when you have to eat on the run! 

∞∞∞ REVIEWS ∞∞∞
"I would definitely recommend this application to anyone who indulges in fast food and is looking to monitor their caloric intake."
- A. Hersh, Macgasm

"Fast Food Calorie Counter for your iPhone or iPod touch is here to help."
- 4/5 Review by T. Craine, Macworld

"This app makes the iPhone a stylish health information tracker while you are on the run."
- Victor, iPhone Footprint

Whether you are on a fitness plan and counting calories, carbs, fiber, or fat grams, this helpful guide will empower you to make better choices or allow you to "cheat" occasionally without feeling guilty. Fast Food Calorie Counter is always on your mobile device for when you need it.

∞∞∞ FEATURES ∞∞∞
√ 9,141 menu items from 73 top fast food restaurants.
√ Nutritional information including calories, fat, carbs, fiber, and protein.

√ "As you type" searching.
√ Ability to sort foods.
√ Ability to rearrange restaurants.
√ Nutrition charts.
√ Keeps track of calories, fat, carbs, fiber, and protein consumed for the day.
√ Saves food eaten for each day for up to a year.
√ Ability to view a quick summary by day, week, or a detailed description for any day of food consumed for up to a year.
√ Create custom foods for unique items.
√ Create custom meals to quickly add multiple food items to a day.
√ Icon shows how many calories have been consumed for the day.
√ Settings allow user to specify daily value as their target for calories, fat, carbs, fiber, and protein.
√ Free Updates!

∞∞∞ SUPPORT ∞∞∞
Concrete Software is dedicated to providing you with quality apps- including support. Please visit our support forums at www.concretesoftware.com/forums/ for help, suggestions or feedback.

∞∞∞ FOLLOW US ∞∞∞
Follow us on Twitter: http://twitter.com/ConcreteSoftwar
Become a fan on Facebook: http://tinyurl.com/n3sdee
Visit us on the Web: www.concretesoftware.com

∞∞∞ RESTAURANTS ∞∞∞
√ All American Food
√ Amato's 
√ Arby's 
√ Auntie Anne's 
√ Bahama Buck's 
√ Baja Fresh 
√ Big Apple Bagels and My Favorite Muffins 
√ Biggby Coffee 
√ Black-eyed Pea 
√ Blimpie's 
√ Bob Evans 
√ Bojangles 
√ Boston Market 
√ Boston Pizza 
√ Breugger's Bagels 
√ Burger King 
√ Breadsmith 
√ Camille's Sidewalk Café 
√ Carl's Jr. 
√ Carvel 
√ Charley's 
√ Checkers 
√ Chevy's 
√ Chick-fil-A 
√ Chili's 
√ Chipotle 
√ Chuck E. Cheese 
√ Church's Chicken 
√ Cici's Pizza 
√ Culvers 
√ Dairy Queen 
√ Del Taco 
√ Denny's 
√ Domino's Pizza 
√ Dunkin' Donuts 
√ El Pollo Loco 
√ Five Guys Famous Burgers and Fries 
√ Hardee's 
√ In-N-Out Burger 
√ Jack in the Box 
√ Jimmy John's 
√ Jersey Mike's Subs 
√ Johnny Rockets 
√ KFC 
√ Little Caesars Pizza 
√ Long John Silver's 
√ McDonald's 
√ Nathan's 
√ O'Charley's 
√ Old Country Buffet 
√ On The Border 
√ Panda Express 
√ Panera Bread 
√ Papa John's 
√ Pei Wei 
√ Pizza Hut 
√ Popeyes 
√ Quiznos 
√ Sbarro 
√ Schlotzky's 
√ Sharky's
√ Skyline Chili 
√ Sonic 
√ Starbucks 
√ Steak 'n Shake 
√ Subway 
√ Sweet Tomatoes 
√ Taco Bell 
√ Wendy's 
√ Whataburger 
√ White Castle
TAG: app, iPhone & iPad,Health & Fitness
---
Similar Apps
---
More from developer
---