Calm App Pro-White Noise With Meditation Timer
Platform: iPhone & iPad
Author: Xiaofeng Jiang
Category: Health & Fitness
Version: 4.0
Downloads: 42
---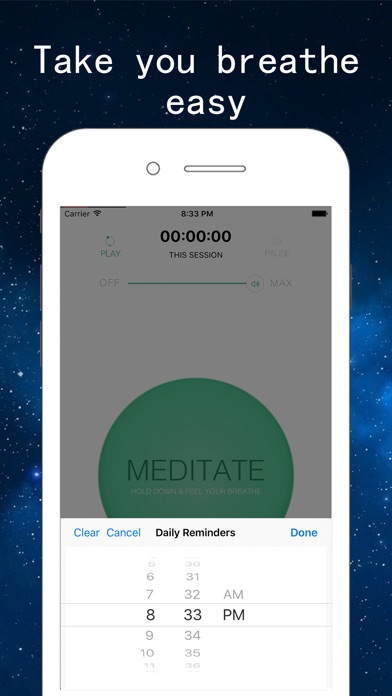 ---
App description:
Calm App Pro is a very simple App for you!
All you need to do is download the app . Then just sit back, relax and breathe.
Calm App Pro is a wonderful app for mindfulness and meditation to bring more clarity, joy and peace to your daily life. Join the millions experiencing less anxiety and better sleep with our guided meditations, breathing programs and Sleep Stories. Recommended by top psychologists and mental health experts to help you de-stress.
The mind is complicated, but meditation doesn't have to be. Untangle your mind with Meditation Studio.

Get a diverse selection of over 250 guided meditations featuring different teachers and styles. Focus on your intention or dive deep into a meditation topic with exclusive collections and courses.
Get the most out of your day with the Calm app. We'll help you perform at your best through the life-changing skills of meditation and mindfulness.

With the free Basics pack, Headspace teaches you the essentials of living a healthier, happier life. If you enjoy the Basics, then it's time to subscribe. Once you do, you'll have access to hundreds of meditations on everything from stress and anxiety to sleep and focus.



Have questions, feedback or suggestions? Reach out to us at tmriscoming@163.com
TAG: app, iPhone & iPad,Health & Fitness
---
Similar Apps
---
More from developer
---