English to Spanish Translator & Spanish dictionary
Platform: iPhone & iPad
Author: Lam Do
Category: Education
Version: 1.0
Downloads: 54
---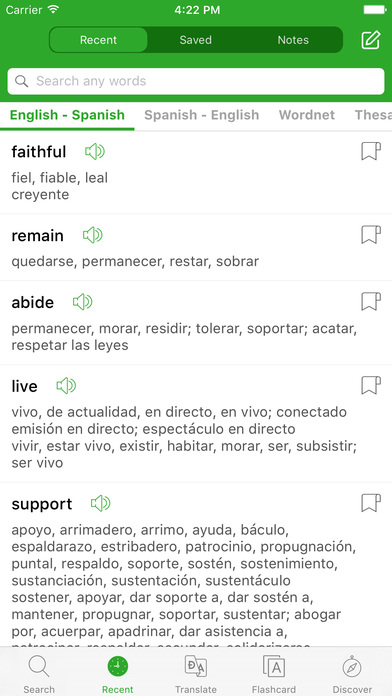 ---
App description:
English-Spanish, Spanish -English Dictionary and Translator is a comprehensive and innovative application for iPod / iPhone / iPod with easy-to-use interface, quality content and advanced search functionality. With 700,000 words, this is ideal dictionary for those who need a comprehensive dictionary to study, work, travel or use at home! Learning English and learning Spanish are easier than ever!

Our app highlights:

• English-Spanish dictionary.
• Spanish-English dictionary.
• WordNet 3.0.
• Spanish Translator.
• Synonym dictionary.
• Thousands of phrases for daily conversation.
• Flashcard games with selected important words for TOEIC, IELTS, etc.
• Idiom dictionary with 2,800 entries
• Daily updated English Listening Lesson and practice your vocabulary.
• Offline mode allows you to look up words without internet connection.
• Audio pronunciation by native speakers to find out how to pronounce the words
• Saved words to favorite list
• Recent words to review history
• Quick searching by supporting spell check.

• Anagram search.

------------------------

Inglés-Español, Español-Inglés Diccionario y Traductor es una aplicación completa e innovadora para iPod / iPhone / iPod con interfaz fácil de usar, contenido de calidad y funcionalidad de búsqueda avanzada. Con 700.000 palabras, este es un diccionario ideal para aquellos que necesitan un diccionario completo para estudiar, trabajar, viajar o usar en casa. Aprender inglés y aprender español son más fáciles que nunca!

Nuestra aplicación destaca:

• Diccionario Inglés-Español.
• Diccionario español-inglés.
• WordNet 3.0.
• Traductor de español.
• Diccionario sinónimo.
• Miles de frases para la conversación diaria.
• Juegos de tarjetas flash con palabras importantes seleccionadas para TOEIC, IELTS, etc.
• Diccionario idiomático con 2.800 entradas
• Lección de Escucha Inglesa actualizada diariamente y practique su vocabulario.
• El modo Offline le permite buscar palabras sin conexión a Internet.
• Pronunciación de audio por hablantes nativos para averiguar cómo pronunciar las palabras
• Palabras guardadas en la lista de favoritos
• Palabras recientes para revisar el historial
• Búsqueda rápida apoyando la revisión ortográfica.
• Búsqueda de anagramas.
TAG: app, iPhone & iPad,Education
---
Similar Apps
---
More from developer
---