Funny Picture Stickers Editor: Face Photo Effects
Platform: iPhone & iPad
Author: say king Lee
Category: Photo & Video
Version: 1.0
Downloads: 64
---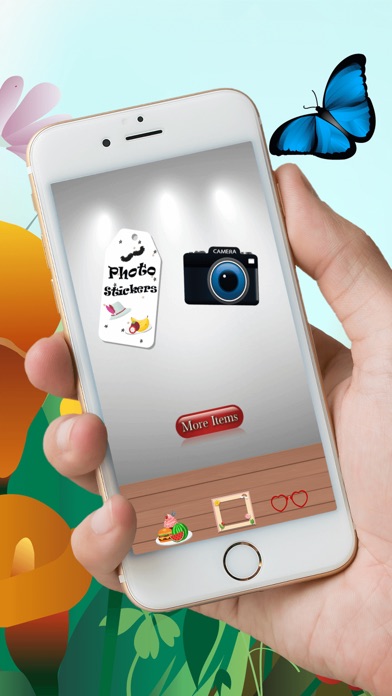 ---
App description:
Use camera to snap your beautiful pic, custom your photo with Funny Picture Stickers Editor: Face Photo Effects app.

It suits everyone who enjoy decorates their photo with fun comic image, frames and stickers.

There are few choices to choose from, some fun stickers makes photo looks like a cartoon feature.
 
Share your customised pic with friends and show your image creator skill with them.
 
 
Stickers catergory:-

1. Food
2. Hairstyle
3. Facial Hair
4. Eyewear
5. Stylish Hat
6. Pic Frame


Guide to use Funny Picture Stickers Editor: Face Photo Effects app

** Select stickers catergory
** Press OPEN to choose photo from gallery or snap selfie photo using built-in camera
** Press MASK, then press CHOOSE to select your preferred photo stickers. You can merge or swap few stickers with the same pic
** Press MASK again and then APPLY  
** Optional : press EFFECT button to select colour filters
** Then press SEND to save to gallery or share edited photo stickers with special messages via Facebook and other social media.



Additional features:-

* Write notes or messages
* Share app with friends
* Photo stickers guide
* Record voice messages
* Play fun puzzle game
* Quick link to download more apps


Download the app and have fun.
TAG: app, iPhone & iPad,Photo & Video Sexy, Adult, Porn, Hot
---
Similar Apps
---
More from developer
---