BHIM App Guide for BHIM UPI
Platform: iPhone & iPad
Author: Somish Kakadiya
Category: Education
Version: 1.1
Downloads: 80
---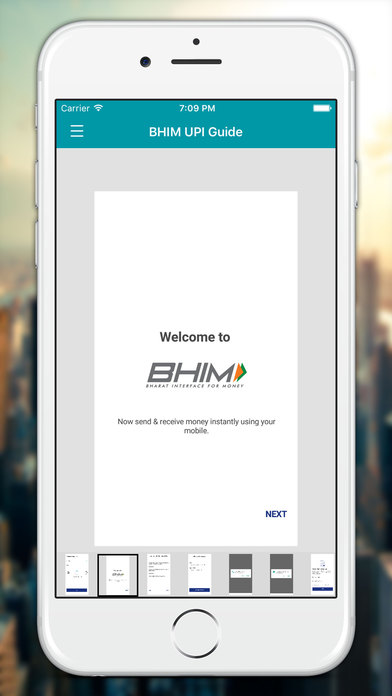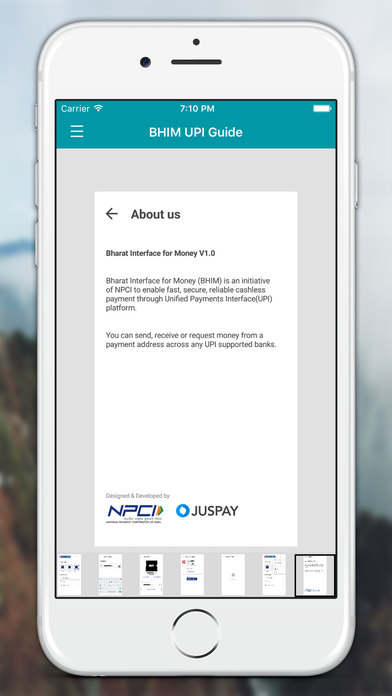 ---
App description:
- BHIM - Bharat Interface Money app was launched by PM Modi on 30th December 2016, It is considered to be the best online app for transferring money one user to another.

- The biggest problem lower educated were facing was to the enable working of the BHIM app, thus this app is a solution for them it consists of a description of the BHIM app into various Regional Languages.

- How does it work?

Ans: Open App and Watch the guide

- Check Balance: You can check your bank balance and transactions details on the go.

- Custom Payment Address: You can create a custom payment address in addition to your phone number.

- QR Code: You can scan a QR code for faster entry of payment addresses. Merchants can easily print their QR Code for display.

- Transaction Limits: Maximum of Rs. 10,000 per transaction and Rs. 20,000 within 24 hours.

- Language supported: Hindi and English. More languages coming soon!

Supported Banks: 

- Allahabad Bank 
- Andhra Bank
- Axis Bank 
- Bank of Baroda 
- Bank of Maharashtra	

- Canara Bank
- Catholic Syrian Bank 
- Central Bank of India
- DCB Bank 
- Dena Bank
- Federal Bank 
- HDFC Bank
- ICICI Bank 
- IDBI Bank 
- IDFC Bank 
- Indian Bank 
- Indian Overseas Bank 
- IndusInd Bank
- Karnataka Bank 
- Karur Vysya Bank 
- Kotak Mahindra Bank 
- Oriental Bank of Commerce 
- Punjab National Bank 
- RBL Bank 
- South Indian Bank 
- Standard Chartered Bank
- State Bank of India 
- Syndicate Bank 
- Union Bank of India 
- United Bank of India
- Vijaya Bank

- This App is in the Name of DR. Bhim Rao Ambedkar
Modi Ka BHIM APP Launched by Prime minister Narendra Modi who Announced the Demonetisation move and banned the currently flowing currency of 500 and 1000 from the Market in order to curb black money.
- It is a very good initiative . and to Support the initiative use the BHIM App to go Cashless.

On 30th December. PM Modi Announced an Android App which will facilitate the user to Pay to merchants from the use of there Thumb using the BHIM App
BHIM (Bharat Interface for Money) - a rebranded version of UPI (Unified Payment Interface) and USSD (Unstructured Supplementary Service Data),

Disclaimer: - this is not an Official BHIM App, This app will help people of India to learn how to use this app, it is a simple Guide to using BHIM App. showing one of the flows of transferring money from one account to Another.
TAG: app, iPhone & iPad,Education
---
Similar Apps
---
More from developer
---