VR Christmas Santa Roller Coaster
Platform: iPhone & iPad
Author: Coding Squares
Category: Games
Version: 1.0
Downloads: 88
---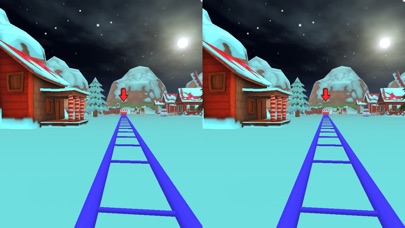 ---
App description:
Coaster is present of Christmas having lot of fun and adventure.
Strap yourself in Christmas Roller Coaster and get ready to scream at the top of your lungs, as this Christmas Roller Coaster is going to take you to most adventurous paths ever. Christmas Roller Coaster has extreme sharp turns and high and low pitches of fascinating tracks.
You may have played riding other roller coaster, where you just ride and enjoy the mere views, but this time get ready to strap in and crack it up a notch on crazy Christmas Roller Coaster.
Are you ready for great fun on Christmas? Christmas Roller Coaster is the button away from great fun ever on Holy day of Christmas. Adventurous, steep, sharp and scary routs is the key to fun on Christmas Roller Coaster.
If you're courageous adventurous type and crazy for adventure with fun and also looking for great adventure then Christmas Roller Coaster is the best suit pack for you especially on great day of Christmas.
FASCINATING SURROUNDINGS
The key feature which make Christmas Roller Coaster unique among rival games is its fascinating surrounding. Christmas Roller Coaster has fascinating yet realistic surroundings.  Steep and sharp track for Christmas Roller Coaster make this game really amazing especially for people who want to enjoy game as well as the perfect realistic surrounding. Realistic feature of Christmas Roller Coaster let the player feel like he is actually riding a Speedy Roller Coaster. One actually feel the perk of Amazing Roller Coaster because of realistic and fascinating surrounding environment of this game. 

Roller Coaster Adventure for its amazing scenes which are being viewed while riding Crazy Roller Coaster in and out of the city. Roller Coaster Adventure is especially designed for wonderful day of Christmas when everybody want a true ultimate adventure and fun while sitting on their favorite coach which only Roller Coaster Adventure can fulfill their Christmas desire.
While riding Roller Coaster Adventure you will see the city view from aerial view, experience sharp and steep paths going up and down with sharp pitch.
Playing  Roller Coaster Adventure is no less than riding Real Roller Coaster of your city only because of its realistic surrounding, stunning sound perfectly matching with every move of Roller Coaster Adventure and perfectly designed graphics to make it amazing and to celebrate Christmas along with fellow citizen while sitting your coach.
ULTIMATE ADVENTURE
Feel and live through the excitement of riding on Roller Coaster Fun. Make your life more bright and adventurous by ridding Roller Coaster Fun which is few button away from you. It is not only fun to ride Roller Coaster Fun but an ultimate adventure. Roller Coaster Fun can give you goose bumps and Roller Coaster Fun is breathtaking with thrilling moments to experience and views to witness surrounding your steep stunning paths of Roller Coaster Fun.
Paths going up and then suddenly down, rapid turns, and high speed of Roller Coaster is just speechless and can let you experience adrenaline rush.
TAG: app, iPhone & iPad,Games
---
Similar Apps
---
More from developer
---