Monthly Budget Planner + Spending Expense Tracker!
Platform: iPhone & iPad
Author: Hu YuanFei
Category: Finance
Version: 1.7
Downloads: 66
---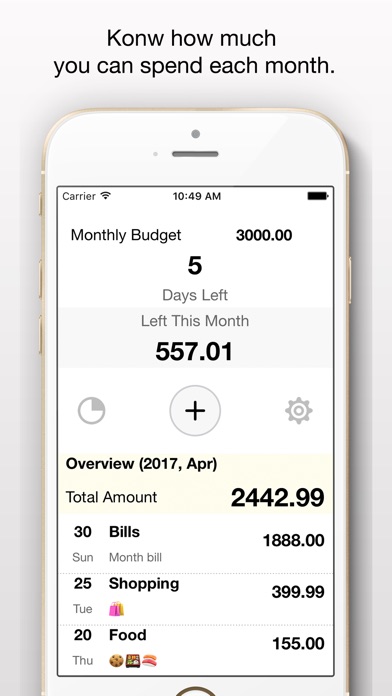 ---
App description:
Use MonthlyBudgetPlanner, Knowing how much you can spend per day is a simple step towards understanding how you use and save money. 

Budgeting shouldn't be hard work or boring. It's personal finance made easy, it's your money made simple.

Main Features

Simplicity
• Enter Amount - Category - Optional (Notes & Date) - Complete
• Enter your daily Expenses.
• See every month how much you can spend.
• How many days left per month.

Easy Saving
• By seeing how much you can spend every day you will automatically spend less.
• The variable Monthly Budget will open your eyes to your financial situation from day to day.

Individualism
• Create your very own Budget with monthly.
• Create and manage your own Categories.
• Password protection,Touch ID.
• iCloud Sync & Backup.

Monthly Budget
• Month End Projection to see where you stand.
• Month Budget showing you how much money you have left this month.

Monthly Statistics
• Intuitive monthly chart analysis.
• You can switch to different month statistics.

• Scroll through passed month to compare.
TAG: app, iPhone & iPad,Finance
---
Similar Apps
---
More from developer
---