Tamil Bible: Easy to Use Bible app in Tamil for daily christian devotional Bible book reading
Platform: iPhone & iPad
Author: BIGHEAD TECHIES LLP
Category: Book
Version: 1.0
Downloads: 94
---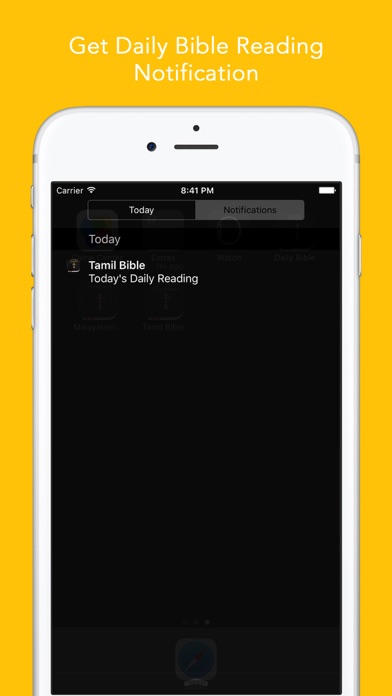 ---
App description:
Features:
- Easy to Use Tamil Bible
- Ability to save favorite chapters or verses. 
- Enable/Disable Notification settings
- Daily Tamil Bible Reading :Get on daily basis  bible reading (
- Holy Bible Tamil with old testament and New testament 
- Compatible with all screen sizes
- Get daily bible reading  and track the read chapters.
- Ease and simple to use.
- Download latest design bible compatible with tablet
- Always provide unread chapters for notification
- Bible offline  - Read bible even without network access.
- Works well in iphone and ipad
- Explore specific words in bible
- Easily locate Book/Chapter/Verse
- This is a free Lite app Tamil Bible . 
- Read, Remove, Share with ease.

Free Tamil bible has got all chapter of old testament and New testament in Tamil standard, with a legitimate reading . UI is designed for easy navigation capabilities. It provides daily Tamil bible reading notification and tracks all the read chapters. As a part of Bible org we are glad to release 
IOS Tamil Bible app as a free service, to spread Jesus words. We welcome any suggestions to improve yourself. Start your day with Tamil of the bible. Tamil bible download app is not just another Tamil bible Study app (Tamil Language). Its for Tamil people of Tamil Nadu. Our aim is to keep you inspired and nourished everyday with god words .You will get automatic daily notification using christian tamil bible. Mark the Inspiring Tamil Bible verse! As a christian, we have verified the chapters of holy bible reading with international standard. Tamil bible online Lite app, always tracks the unread chapter for daily bible reading. Clean font, helps to read letters easily. Our chosen daily bible reading arulvakku - Tamil Bible Online helps you to start your day thinking about and thanking God for this wonderful life with prayers. books of tamil bible, Free Tamil bible download study bible helps to enlighten before confession and also a as bible study app or even liturgy. The Bible - Sacred text will be very helpful during daily Tamil Christian prayer.Bible in Tamil is for kids, Holy Bible in tamil is for couples and Holy Tamil Bible for all Christians across globe. Tamil Bible follows the popular bible versions like the Catholic Tamil bible , Tamil Union Version Bible,Tamil Bible: Easy-to-Read Version (ERV-TA),kjv tamil bible. So this daily Tamil Bible study devotion app will be the best bible app free that you will get for your IOS mobile phones. bible stories for youth in tamil - Tamil bible download app can also be used during Tamil audio bible reading. Mark the favorite Tamil bible quotes and chapter for future reference, set it as Favorites by click. Tamil Divine app is also used as the best Tamil devotionals for women.The Daily devotional Tamil Bible app can be used for youthful praise or as youth ministry resources, because we gave the best Tamil bible gateway for Youth.
TAG: app, iPhone & iPad,Book
---
Similar Apps
---
More from developer
---