Sniper Hitman Assassin 2- Robot Shooting Game Free
Platform: iPhone & iPad
Author: Aaron Co
Category: Games
Version: 1.0
Downloads: 1524
---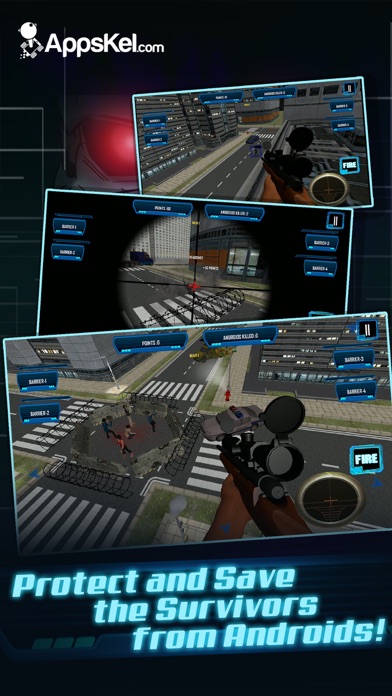 ---
App description:
"Sniper Hitman Assassin" is an action-packed adventure for the most daring fans of what an adrenaline-pumping first-person shooter is all about. A hitman? No, you are much more than that ñ the very fate of mankind is in your hands.

Before venturing forward, here's what awaits you in the game:

- A premium 3d FPS sniper game
- 4 different and upgradable rifle weapons for you to choose from
- Multiple enemies that will challenge your skills
- Unbelievably smooth controls
- Offline playability should you prefer that

But how has it come to this situation? The inevitable has happened: a zombie outbreak has finally hit the Earth. The world is not the quiet place we knew from the past ñ it's a battlefield where every day is a struggle and elite strike teams aim to maintain peace.

In the darkness of such an unrelenting world of warfare and constant combat, it is up to you to save your fellow residents. You have the boldness, you have the skills, and, ultimately: you have the weapons. Your mission is to snipe every zombie android you see on the horizon.


"Sniper Hitman Assassin" is an engaging, thrilling 3d FPS sniper game that throws you in the action-filled environment of swarms of robotic zombies. The game is perfect for newcomers and veterans alike as you will easily adapt to its gameplay even if you're unfamiliar with the genre. 

The game's most integral part is its modern weapon system. There are altogether 4 different and upgradable rifle weapons for you to choose from. They all vary in terms of damage, ammo and range ñ with each advancement towards a better weapon, you will find yourself killing off zombies at a better pace and with greater results.

Sticking to an immersive gameplay, the game requires of you to be always on the watch, looking out for the next incoming zombie robot as an experienced assassin. If you fail to do so, they will break the barriers surrounding your fellow residents and kill them off.

For maximum player comfort, the game offers video quality and sound options. You can pick what option suits you best in line with your device's performance.

To top it off, there are leaderboards to commemorate every player's proficiency in slaying zombie robots. You can also rank among the best of the best too - all you need to do is be consistent in your weapon proficiency and go shoot waves of androids.

If you prefer offline activities to online leaderboards, the game can also be played entirely offline. Even when you're not connected to the internet, you will be able to enjoy the full benefits of having a terrific 3d FPS game with smooth controls, lots of adrenaline and customizability.

The real question is: are you up to the challenge? Do you feel ready to climb the rooftops of the plagued city and guarantee the safe existence of other citizens? Is your hand steady, zooming on the next zombie to perish by your weapon skills? Time to go!
TAG: app, iPhone & iPad,Games
---
Similar Apps
---
More from developer
---