Devoted Ninja [Free Yaoi Game]
Platform: iPhone & iPad
Author: Arithmetic Inc.
Category: Games
Version: 1.3.3
Downloads: 60K
---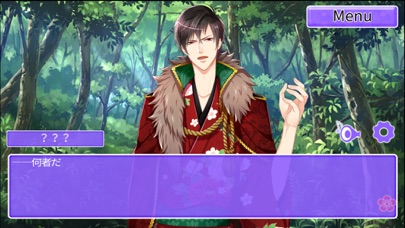 ---
App description:
Devoted Ninja [Free Yaoi Game]

Forbidden love story.
BL love novel game set in the age of Japanese civil wars.

BL novel game "Devoted Ninja - Love Romance in the Chaotic period-"

[Story]
"Be a servant of the warlord to gather information--"
Part of a group of skillful ninjas, loyal only to carrying out their missions.
"Devoted Ninja"'s next target is the well-known warlord!

Warlord & Ninja
Set in the age of civil wars, a forbidden love story begins…!

[Characters]
▼Saku Shinjo (Main Character)
"…I'll do my best, my lord."
Leading character of the main route

▼Nobunaga Oda
"Don't say anything. Just follow me--"
Charismatic & Forceful

▼Ieyasu Tokugawa
"Did you really think that you can run away from me?"
Mysterious & Crafty

▼Masamune Date
"It's always fun having you around."
Dauntless & Tsundere

▼Tadaoki Hosokawa
"I wish I could keep you locked up…"
Gentleman & Yandere

BL love sim game for girls - "Devoted Ninja"
We, Arithmetic, providing breathtaking love stories to more than ten million users worldwide, is releasing a whole new BL game!!


[How to Play]
- Free to play! Read scenarios for free every day!
- Energy recovers every once in a while as you play. Use your energy to advance the story.
- A novel game app allowing you to advance the story as you make choices.
- Make the right choices to build on your love point. Story changes based on the amount of love point.
Several types of endings are available. 
Beautiful illustrated still available for viewing.

Playable characters are to be added! Stay tuned!!

・Recommended for those who are:
- in love with sim games and otome games
- in love with BL (Boys Love) contents
- Yaoi fandom
- interested in topics such as warlords and histories, as well as palace, idols, Bakumatsu, the royals, the court, the inner palace, school and police.  
- crazy about sexy guys
- in love with the world of romance for girls
- fond of heart-throbbing situations such as bitter-sweet love,  forbidden love and passionate love.
- prefers to keep on reading the story without stopping for missions
- seeks to play games with genuine love stories

• Recommended environment: iOS9.3 or less
※ may not work properly depending on the environment. Please note.

Category / genre: Love ADV / BL
Age restriction: None
Fee: Free registration / basic play (in-app purchases available)
TAG: app, iPhone & iPad,Games
---
Similar Apps
---
More from developer
---