LDS Christlike Attributes Missionary Activity - Preach My Gospel
Platform: iPhone & iPad
Author: Ten Cows Inc.
Category: Productivity
Version: 1.1
Downloads: 102
---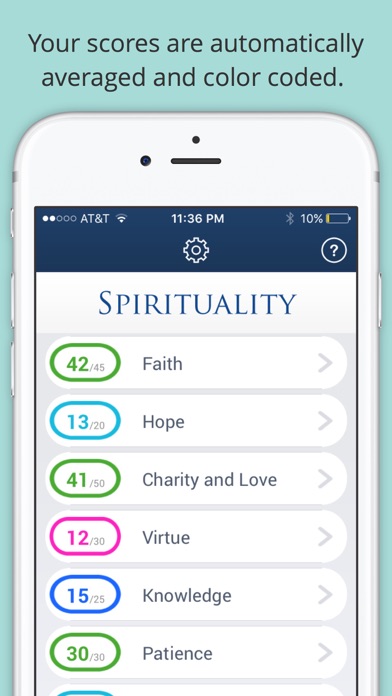 ---
App description:
Have you ever wondered how to measure and report WHO you are BECOMING? Christlike Attributes App was inspired by the Christlike Attributes Activity in Preach My Gospel which helps you measure and report who you are becoming. 

The Christlike Attributes Activity in Preach My Gospel helps thousands of missionaries know where they are now, and what they need to do to become more Christlike. By digitalizing this activity your scores are now automatically averaged and color coded for convenience and simplicity. You can rate yourself as many times as you want. You can focus on one attribute at a time or all at once.   


Bottom line, what you will get:

1. All 9 of the Christlike Attributes found in the Christlike Attributes Activity. 
2. All statements and scriptures associated with each attribute.
3. Scores automatically averaged and color coded. 
4. Further instructional tips for developing Christlike Attributes. 
5. Passcode feature so only you can open the app. 
6. Tutorial to easily understand the app.



My story: 

What does improved performance as a warehouse picker have to do with developing Christlike Attributes?
 
When I worked at a warehouse my performance was measured on how fast I could put food items on a pallet to have it shipped. I went from around 80% performance (on what my employer expected) to 202% a year later. When I left I was the fastest picker at that warehouse. I think a key to my improvement was my performance was constantly measured and reported to management. I never realized measuring and reporting performance was a defining factor to my improvement until I read this statement by Thomas Monson: 

"When performance is measured, performance improves. When performance is measured and reported, the rate of improvement accelerates." 

Part of my personal ambition has been to improve my character attributes. I strive to be more patient, kind, loving and selfless. I strive to have more faith that leads to righteous action in my life. I constantly fall short of what I want to become. I have frequently wondered how I can apply my improved performance as a warehouse picker to developing a solid character. 

It was on my mission when I stumbled upon the Christlike Attributes Activity in Preach My Gospel. This activity allowed me to rate myself on specific attribute statements. I knew self-honesty was important here. I knew if I was honest with myself I could measure and report who I am now and what I am working on becoming.

A character attribute I held in high priority by me before and on my mission was controlling my thoughts to focus on righteous action, because I knew if I could control my thoughts then I could control my life and my eternal destiny. I struggled sometimes with thoughts that didn't lead me to become a better person. Perhaps this is a little OCD, but none the less it was important to me and I knew it was a true principle. 

So I decided to rate myself on a statement from the attribute of "virtue." After each day I would rate myself from 1 to 5 (1 being "never" and 5 being "always") on the statement, "I focus on righteous, uplifting thoughts and put unwholesome thoughts out of my mind." Some days I rated myself a 2 for "sometimes" and other days was a 4 for "almost always." With time though it became easier and habitual to focus on thoughts that invite light into my mind. As a consequence, I found my life becoming more bright! I found more control in my thoughts, actions and where I wanted my life to go.  

On my mission it was a little inconvenient to write the statements down and rate myself each day but it was important to me so I did it. Now fast forward 8 years later and I am taking a mobile app class from Paul Wilson at BYU-Hawaii. That's when I came up with the idea to digitalize the Christlike Attributes Activity to make it more convenient for people to measure and report who they are becoming.
TAG: app, iPhone & iPad,Productivity
---
Similar Apps
---
More from developer
---