Color Swag - Coloring Book
Platform: iPhone & iPad
Author: Ablaze Apps LLC
Category: Book
Version: 1.6
Downloads: 15K
---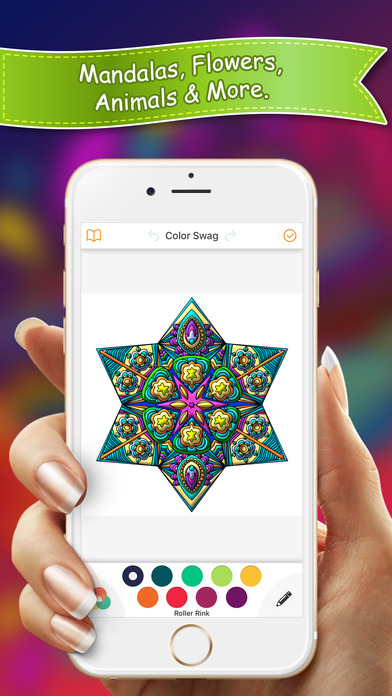 ---
App description:
Free Adult Coloring Book for iPhone,iPad & iPod. Relaxing and fun, Color Therapy at your fingertips! Lots of art to color, including Florals, Cupcakes, Artistic Faces, Mandalas, Animals, and more. Relieve stress and anxiety while unleashing your creativity.

Color Swag for Grown Ups is an Adult Coloring Book App with beautiful unique illustrations and fresh, fun color palettes. Unwind,relax and experience the many benefits of coloring while clearing your mind.

Color therapy is proven to reduce stress and anxiety. Millions of users have rediscovered the joy of coloring-its relaxing,creative and fun!

SIMPLY TAP to start coloring and create beautiful art.

PROS OF COLOR SWAG

● EASY & User friendly
● UNIQUE coloring pages 
● ZOOM to color small details
● FREE selection of pictures to color 
● FREE Color Palettes 
● GRADIENT colors made easy
● SAVE images to your photo library 
● BOTH iPhone & iPad

Adult coloring books are relaxing and entertaining.Try this FREE coloring app today.

We can't wait to see your arty creations. 


Connect with us on Facebook  www.facebook.com/ablazeapps
Share your pics with us #Colorswag

Questions and and feedback? Contact support@ablazeapps.com

Ablaze Apps
TAG: app, iPhone & iPad,Book
---
Similar Apps
---
More from developer
---