New American Standard Bible NASB Bible
Platform: iPhone & iPad
Author: Janice Ong
Category: Book
Version: 1.2
Downloads: 118
---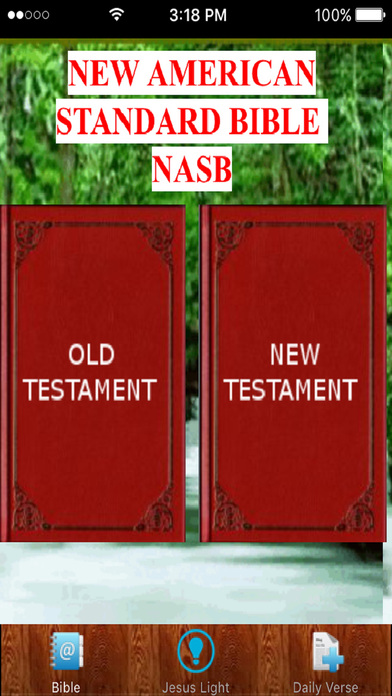 ---
App description:
Download NASB Bible now for FREE.Read and share God's Words with The Holy Bible New American Standard Bible Version App. Useful Daily Bible Verse included.

+ Offline (No Internet connection required) 
+ Complete Full Bible Old Testament & New Testament

The Old Testament has 39 books total, which consist of: Genesis,Exodus,Leviticus,Numbers,Deuteronomy,Joshua,Judges,Ruth,1stSamuel,2ndSamuel,1stKings,2ndKings,1stChronicles,2ndChronicles,Ezra,Nehemiah,Esther,Job,Psalms,Proverbs,Ecclesiastes,Song of Solomon,Isaiah,Jeremiah,Lamentations,Ezekiel,Daniel,Hosea,Joel,Amos,Obadiah,Jonah,Micah,Nahum,Habakkuk,Zephaniah,Haggai,Zechari,Malachi.

The New Testament has 27 books total, which consist of :
4 Canonical Gospels : Matthew, Mark, Luke, John, Acts
, twenty-one Epistles or letters which consists of:
Pauline Epistles : Romans, 1 Corinthians, 2 Corinthians, Galatians, Ephesians, Philippians, Colossians, 1 Thessalonians, 2 Thessalonians, 1 Timothy, 2 Timothy, Titus, Philemon
 Non-Pauline Epistles--Hebrews, James, 1 Peter, 2 Peter, 1 John, 2 John, 3 John, Jude

Book of Revelation

Included few daily Bible Verse :
- Start your day with a daily Bible verse.
Save or Share Bible verse or plan or devotions easily on Facebook and email.

+ Also included Torchlight to light up your life. Remember Jesus is Light. He lights up the world for us. 

Thank You God For Giving Us Jesus Christ To The World For Salvation & Your Words

About the New American Standard Bible -

The New American Standard Bible is a modern-English update of the American Standard Version. Completed in 1971, the New American Standard Bible has received high praises from many scholars for its accuracy and readability.
TAG: app, iPhone & iPad,Book
---
Similar Apps
---
More from developer
---