Guide for Hitman GO - Walkthroughs
Platform: iPhone & iPad
Author: sagar patel
Category: Reference
Version: 1.1
Downloads: 128
---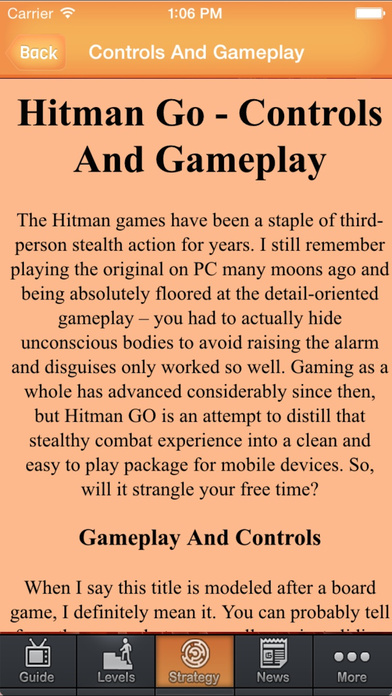 ---
App description:
The Unofficial Guide for Hitman GO Walkthroughs teaches you how to play Hitman GO. The guide also teaches how to zoom all levels and all chapters. Have you been stuck on level 1 Chapter 13 for 7 days? Well you don't have to remain stuck anymore thanks to the Pro Guide for Hitman GO.(THIS IS NOT THE GAME), but a help guide only to master Hitman GO.

Featured:
- Game Guide and Review
- Game Walkthrough
- Game Tips and Tricks
- Game Video Guide

We will update it constantly. Best Hitman GO Guide  to help you best play Hitman GO . Enjoy it now!!

Legal Disclaimer:
All trademarks and copyrights contained in Guide for Hitman GO are owned by Square Enix Inc. Please note THIS IS NOT a Hitman GO game. Guide for Hitman GO IS NOT an official guide. This guide is intended only for players' enjoyment and exploration of the game. All characters, locations, images and video game content are copyright of their respective owners and usage for this game guide falls within fair use guidelines. Thank you 
for reading!
TAG: app, iPhone & iPad,Reference
---
Similar Apps
---
More from developer
---