Guide for Shadow Fight 2 - All New Level Video,Tips,Walkthrough Guide
Platform: iPhone & iPad
Author: sagar patel
Category: Reference
Version: 1.4
Downloads: 614
---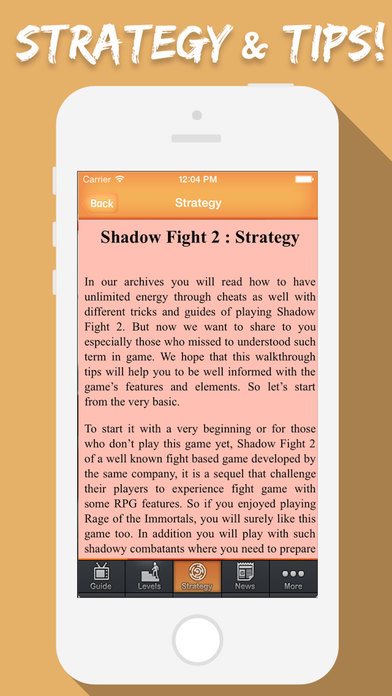 ---
App description:
Best Guide for Shadow Fight 2 to help you best play Shadow Fight 2
Want to know more things about Shadow Fight 2 Game? 
Please download and read Guide for Shadow Fight 2

 Guide Features:
- Full Video Guide
- Detailed Guide
- Coins and Diamonds Guide
- Pro Tips Guide
- Hottest Video Strategy
- Compatible for IOS 8 and iPhone 6/6+

Enjoy your game. Enjoy our guide.

Disclaimer: 
1) This guide is Shadow Fight Facebook an UNOFFICIAL version and is not endorsed by or affiliated with the creator of this game or its licensers. 
2) This application complies with the US Copyright law guidelines for fair use. 
3) All characters, their names, places, and other aspects of the video game described within this application are trademarked by their respective owners. 
4) This application does not copy any portion of the game, nor does it contain screenshots of the game, only original text descriptions. 
5) If you feel there a direct copyright or trademark violation that does not follow within the fai
r use guidelines, please contact us directly to discuss.
TAG: app, iPhone & iPad,Reference
---
Similar Apps
---
More from developer
---